Debbie White Dove Porreco, a descendent of Powhatan princess Pocahontas, is calling on Sen. Elizabeth Warren (D-Mass.) to "apologize to everybody" for wrongfully appropriating Native American culture.
Porreco said Tuesday night in an interview with Fox News' Tucker Carlson that while she is glad the Massachusetts senator took the test, it proved "that she wasn't the Cherokee Indian that she was claiming to be for so long."
"I think she's guilty of claiming she's an American Indian but had no proof – and then using it for applications for college, for political reasons," said Porreco. "And that was all wrong that she did that this whole time."
When asked to respond to Warren being listed as the first female faculty of color at Harvard Law per her ancestry claim, Porreco replied that she and others felt "betrayed."
She criticized Warren for taking "benefits away from American Indians that belong to them."
"She was using the name, trying to be American Indian just to rise above," said Porreco.
"She needs to... apologize to everybody for what she has done," she said.
After years of bobbing and weaving about her claim to Native American heritage, Warren released the results of a DNA test on Sunday. The six-page genetic data report published by the Boston Globe suggests Warren is between 1/64th and 1/1,024th Native American.
That rounds out to between 0.00097 and 0.156 percent, which is possibly less than the average European American, according to one 2014 study, Fox News reported.
President Trump, who has referred to Warren by the nickname "Pocahontas," called on Warren to apologize "for perpetrating this fraud against the American Public."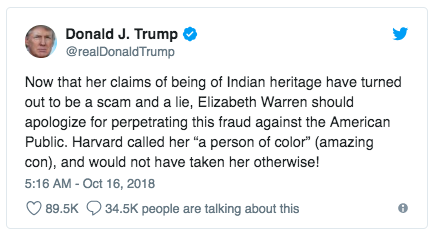 The Cherokee Nation issued a statement on Monday saying that a "DNA test is useless to determine tribal citizenship" and that "using a DNA test to lay claim to any connection to the Cherokee Nation or any tribal nation, even vaguely, is inappropriate and wrong."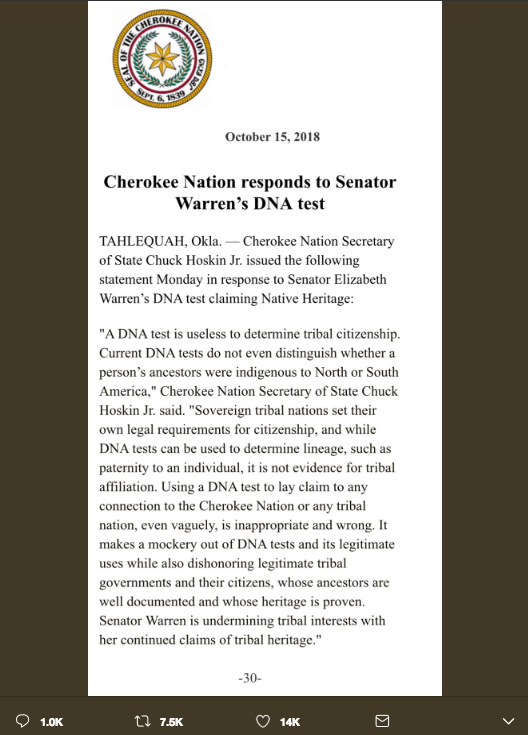 Sen. Lindsey Graham (R-S.C.) mocked Warren, saying that he plans on taking a DNA test to find out if he has more Native American heritage than her, MRCTV reported.
"You know, I didn't really think much about it, but she's less than one tenth of one percent. I think I can beat her," Graham said.
Warren claimed to be of Cherokee heritage in her college paperwork at universities including Harvard Law School where she is listed as a minority professor, as well as during a Senate race in 2012, but when asked to prove her claim, she dodged the subject.
She is facing criticism from both sides of the aisle. Democrats slammed Warren for taking the party off message just ahead of the midterm elections. 
Warren defended her decision to release the DNA results, saying that she wanted to put an end to the attacks by President Trump and her opponents.
"I have an election," Warren told the Boston Globe. "Donald Trump goes in front of crowds multiple times a week to attack me. Both of my opponents have made the same attack. I got this analysis back, and I made it public."
She is reportedly considering a 2020 presidential run.