It doesn't take a fan of President Trump to understand how he implements one of his formulas to get things done. Trump sees something he doesn't like, tweets about it and then some kind of change happens that brings the matter to a level of solution.
This seems to be the case — once again — after Trump tweeted his displeasure with pharmaceutical company Pfizer on Monday.
Here's the president's initial tweet from Monday: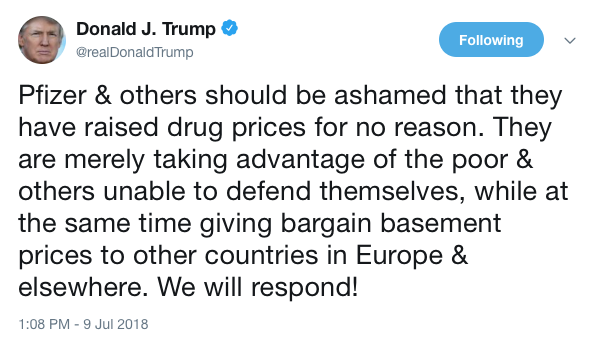 One day later, and Pfizer has decided to roll back the prices of most of their prescription drugs.
Here's Trump's tweet on Pfizer's decision to roll back prices: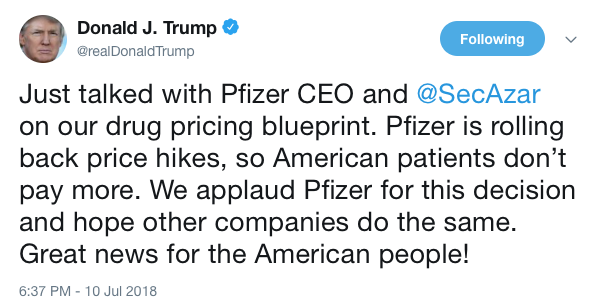 Of course, the Left has to rain on any victory for the American people— no matter how slight — merely because Trump had something to do with it.
Bloomberg Opinion writer and former corporate strategy writer for Left-leaning Quartz Max Nisen downplayed Pfizer's reversal to their decision to hike prices for their medicinal products.
"The price hikes aren't dead — they're deferred until Jan. 1," Nisen wrote, "unless the administration's drug-pricing blueprint comes into effect first."
Well then, it looks as if the Democrats would have to actually work with Trump in order to keep drug prices down. So, if we go by recent history, there's a decent chance the price of Pfizer's products could go back up.
Nisen also wrote that this roll back "won't make much difference." Does that mean the president shouldn't even try to help out Americans by keeping some of their prescription costs down?
It just goes to show that Trump could cure cancer tomorrow, and the Left would still complain, "Why didn't you come out with this yesterday?"
All in all, this is a good step forward — even if you ask Pfizer CEO Ian Read — who released a statement both confirming the price roll back and praising the president for his interest in their industry.
Here's part of Read's statement according to Fox Business:
Pfizer shares the President's concern for patients and commitment to providing affordable access to the medicines they need. The most fundamental way the biopharmaceutical industry creates value is by discovering innovative medicines that help people live longer, healthier, more productive lives[…]
We are encouraged that the president recognizes the value our industry brings to society and our ability to fulfill our mission to discover and bring innovative new medicines to patients.
Even if the price roll back is temporary, we need to begin appreciating some of the small steps it takes to get the big steps done.
Sponsored Links