According to a new Pew Research Center poll, nearly seven-in-ten Americans (68%) are sick of the news.
The survey finds that most Americans are on overload with the amount of news there is nowadays and that the high level of news fatigue is similar to that experienced during the 2016 presidential election when the topic was reported on around the clock.
"The portion expressing feelings of information overload is in line with how Americans felt during the 2016 presidential election, when a majority expressed feelings of exhaustion from election coverage," Pew reports.
That's probably because networks like CNN use most of their airtime on a narrow number of topics such as the Russia "collusion" story for hours and days on end.
Both Republicans and Democrats express news fatigue, but Republicans even more so:
"Roughly three-quarters (77%) of Republicans and Republican-leaning independents feel worn out over how much news there is, compared with about six-in-ten Democrats and Democratic-leaning independents (61%)," writes Pew.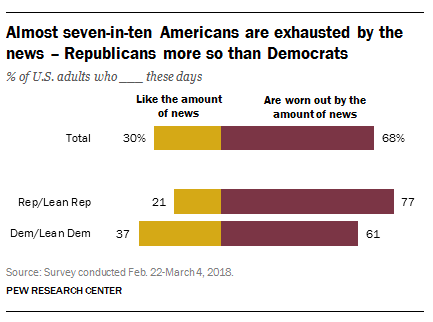 (Image via Pew Research Center)
Americans who watch the news less often or think the news networks are doing a poor job at covering important stories are more likely to feel "worn out" by the content.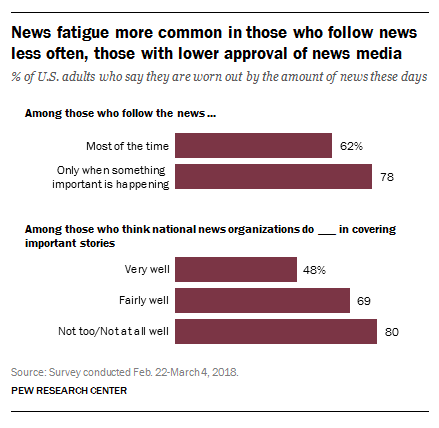 (Image via Pew Research Center)
That being said, only 17 percent of Americans feel that national news organizations are doing "very well" at keeping the public informed.
Fifty-eight percent (58%) say the news media do "fairly well" and 24 percent say "not too [well] or not at all well."
The Pew Research Center survey of 5,035 adults was conducted from Feb. 22 to Mar. 4 and has a margin sampling error of 1.5 percentage points.