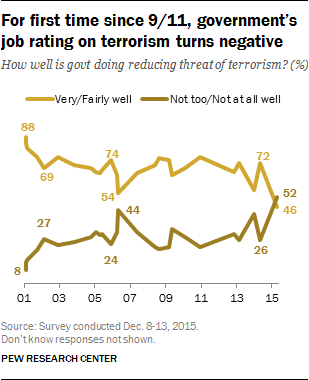 According to a recent national survey conducted by the Pew Research Center, Americans' confidence in the government's handling of terrorism has plummeted to an all-time low in the post-9/11 era. 
President Obama's job rating on terrorism has also declined to a new low since assuming the Oval Office. 
Pew Research Center reports,
"Since the start of this year, the share of Americans who say the government is doing well in reducing the threat of terrorism has fallen by 26 percentage points – from 72% to 46% – and now stands at its lowest point in the post-9/11 era.

"Approval of the way Barack Obama is handling the threat of terrorism also has declined, even as his overall job rating (currently 46%) – and his ratings on immigration, the economy and other issues – is little changed.

"Just 37% approve of the way Obama is handling terrorism while 57% disapprove, the lowest rating of his presidency for this issue."
Data also show that public concerns regarding whether anti-terrorism policies have gone too far in restricting civil liberties have fallen to their lowest level in five years (28%).
"Twice as many (56%) now say their greater concern is that these policies have not gone far enough to adequately protect the country," Pew writes.
Counterterrorism tactics that infringe upon U.S. citizens' civil liberties was a hot topic during Tuesday night's CNN GOP primary debate.
Candidates wrestled with one another over whether collecting phone records can be justified as a reasonable, if not necessary, means to prevent terror attacks on American soil.