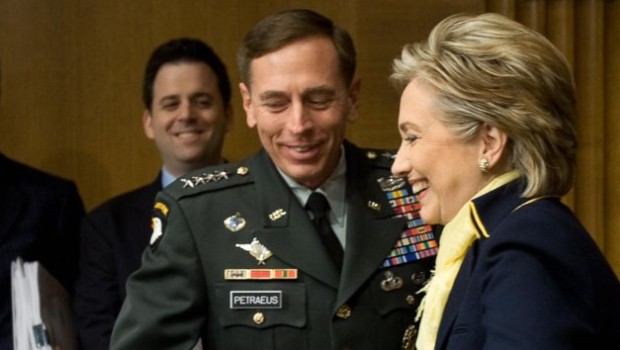 The Pentagon discovered a chain of emails between Hillary Clinton and General David Petraeus that were never turned over to the State Department - which means that Hillary did not turn over all of her work emails as she told the American people (and the courts). The message exchange began before Ms. Clinton took office and extended through her first few days of office. 
 Speaking of her emails on CBS' "Face the Nation" this week, Clinton said: "We provided all of them." But the FBI and several congressional committees are investigating.
However, at least in this case, that statement was untrue.
The State Department's record of Clinton emails begins on March 18, 2009 — almost two months after she entered office. Before then, Clinton has said she used an old AT&T Blackberry email account, the contents of which she no longer can access.

The Petraeus emails, first discovered by the Defense Department and then passed to the State Department's inspector general, challenge that claim. They start on Jan. 10, 2009, with Clinton using the older email account. But by Jan. 28 — a week after her swearing in — she switched to using the private email address on a homebrew server that she would rely on for the rest of her tenure. There are less than 10 emails back and forth in total, officials said, and the chain ends on Feb. 1.
Originally, the news of the emails was leaked to the press, but, "State Department spokesman John Kirby confirmed that the agency received the emails in the 'last several days' and that they 'were not previously in the possession of the department.'"
Kirby said they would be subject to a Freedom of Information Act review like the rest of Clinton's emails. She gave the department some 55,000 emails last year that she sent or received while in office, and officials plan to finish releasing all of them by the end of January, after sensitive or classified information is censored.

Additionally, Kirby said the agency will incorporate the newly discovered emails into a review of record retention practices that Clinton's successor, Secretary of State John Kerry, initiated in March. "We have also informed Congress of this matter," he added.
Although this particular set of emails seems benign, it could end up being the most damaging to Ms. Clinton because last month she submitted a sworn statement to a U.S. District Court saying it was her information and belief that all of her work emails had been turned over - meaning this latest revelation could lead to the former secretary of state being charged with perjury.
The Clinton campaign didn't respond immediately to a request from The Associated Press for comment, but on Twitter, Brian Fallon, the Clinton campaign's press secretary, wrote Friday: "We always said the emails given to State dated back only to March 09. That was when she started using http://clintonemail.com ."