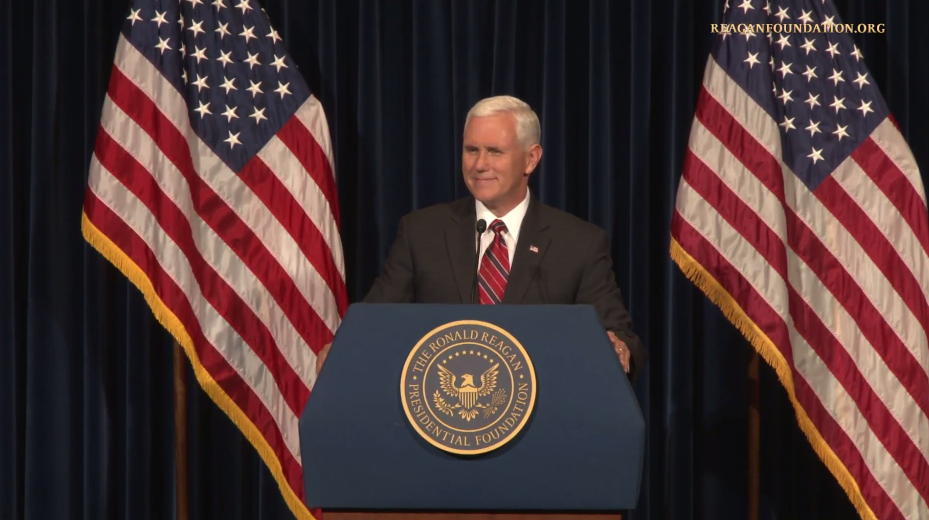 (Image via Screenshot)
Republican vice presidential candidate and Indiana Gov. Mike Pence delivered a speech at the Ronald Reagan Presidential Library in Simi Valley, Calif., on Thursday.
Throughout his remarks, Pence attempted to draw parallels between Donald Trump and beloved former U.S. President Ronald Reagan.
He said that, like Trump, Reagan was first "mocked and dismissed in many ways."
"He was referred to a simpleton by some," said Pence. "They said he was little more than a celebrity and an entertainer who entered politics late in life. Sound familiar?"
"Truth be told, initially, Reagan even made some inside the Republican Party uneasy. His rhetoric sounded too stride and too unrefined," he added.
Pence went on to say that both Reagan and Trump share a voice "unbound by Washington niceties."
"Ronald Reagan spoke the truth to the American people, just like Donald Trump has," he said. "Ronald Reagan knew his own mind and he had the courage and the convictions to know what he was for and what he was prepared to fight against."
"It's a different time and different men," Pence continued. "But I want to tell you that Donald Trump's heart, and at the very heart of Donald Trump's campaign is the same impatience, the same dissatisfaction with the status quo ... the belief in the greatness of this country and the same confidence in the boundless potential of the American people to set things right. "
The event sold out as early as Tuesday morning, raising over $48,000 in contributions.
The Indiana governor began his west coast visit on Wednesday with private fundraisers in San Diego and Newport Beach.