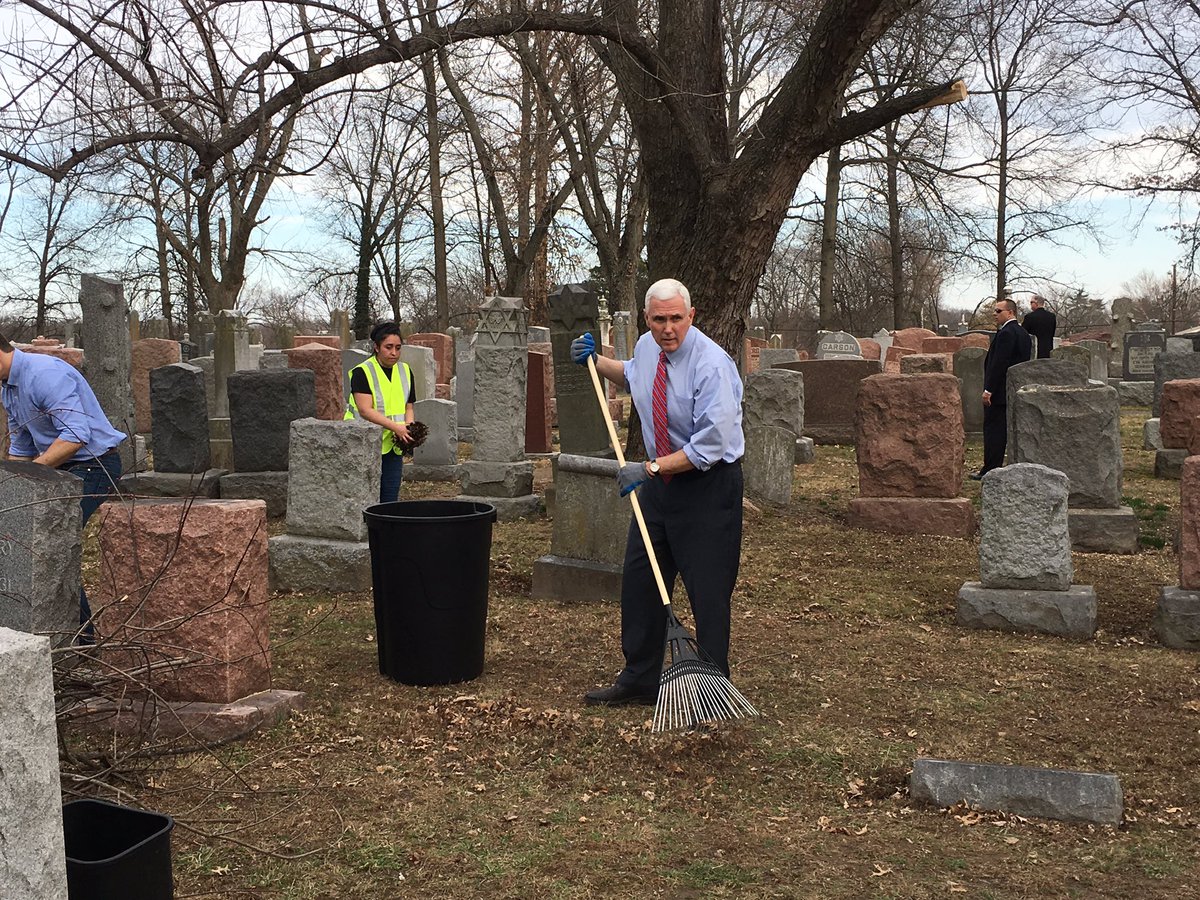 (Image source: Twitter)
On Wednesday, Vice President Mike Pence rolled up his sleeves and helped the cleanup efforts at a Jewish cemetery that was desecrated in a St. Louis suburb.
Earlier this week, over 150 headstones were vandalized at the Chesed Shel Emeth Cemetery in what is being viewed as an anti-Semitic act. The Jewish Federation of St. Louis wrote over 170 headstones were "knocked over in the oldest section of the cemetery."
"On Monday morning, America awoke to discover that nearly 200 tombstones were toppled in a nearby Jewish graveyard," Pence said. "Speaking just yesterday, President Trump called this a 'horrible and painful act,' and so it was."
"That, along with other recent threats to Jewish community centers around the country, he declared it all a sad reminder of the work that still needs to be done to root out hate and prejudice and evil. We condemn this vile act of vandalism and those who perpetuate it in the strong possible terms," Pence explained.
After his statement, Pence joined by Missouri Gov. Eric Greitens to help clean up the desecrated cemetery.
According to a Facebook post by Greitens, Pence changed his plans to help with the cleanup effort.
Greitens wrote, "I told the Vice President what we were planning to do this afternoon. As soon as I told him, he decided to change his plans and join us. He wanted us to know that he, and the White House, believe in what we are doing in Missouri. He wanted to send a message about how we can meet cowardice with courage and hate with productive action and shared service."
At the cemetery, Pence stated, "There is no place in America for hatred or acts of prejudice or violence or anti-Semitism."
Photos posted by Rabbi Lawrence Hajioff show Pence working with a rake to clean up the damage:
(Image source: Facebook)
After helping, Pence took to Twitter to say, "MO's people are inspiring the nation w/ their compassion for the Jewish community. Thank you for showing the world what America is all about."
Pence's trip to help the cemetery comes after former presidential candidate Hillary Clinton condemned Trump for not doing enough to address anti-Semitism in America.
Thank you for supporting MRCTV! As a tax-deductible, charitable organization, we rely on the support of our readers to keep us running! Keep MRCTV going with your gift here!