Don't ask a global elitist to use the word "Christianity" in a positive or sympathetic way. They cringe at the mere thought of having to use a word, "Christian," that helped develop modern Western society. Conversely, they have no issue sympathetically using the word "Muslim" when talking about something that has adversely affected the "Muslim community." There's no problem with sympathy towards either religion, but at least have the courage to be able to acknowledge both.
Courage isn't a well-known trait among the far-left. Take former president Barack Obama and failed Democratic presidential nominee Hillary Clinton, for example.
Residents in Sri Lanka saw Easter Sunday ruined in their country after radical Islamist group, the National Thowheeth Jama'ath, allegedly carried out the attack that has seen "at least 290" people murdered with 500 more people reportedly injured. The attack targeted hotels and Christian churches, using multiple bombs to carry out their hatred.
In response to the attacks, Obama and Clinton tweeted out their prayers — the same prayers the left makes fun of the right for using in most situations — but omitted one very important detail. Okay, they didn't omit, they just gave their tweet a divisive politically correct switch.
Instead of using the term "Christians," both Obama and Clinton used the term "Easter worshippers."
Take a look: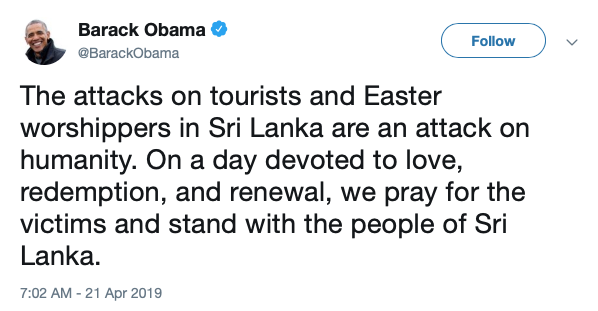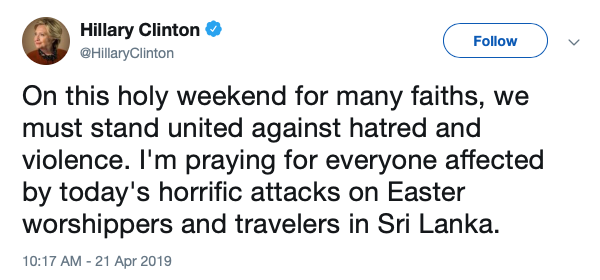 I'm sorry. What's an "Easter worshipper?" Easter is the observance of the resurrection of Jesus Christ. Christ is literally in the term "Christian." Anyone that would use the term "Easter worshipper" doesn't understand the holy high holiday in the first place.
The "Imam of Peace," Imam Mohamad Tawhidi, pointed out the hypocrisy of both Obama and Clinton in subsequent tweets, comparing their reactions to the tragic attack in New Zealand last month:
Why is it that they can publicly espouse their support for the "Muslim community" but not the "Christian" community? It's almost as if Western philosophies are looked down upon by the global elite. Shocker!
Some on Twitter didn't give either Obama or Clinton a free pass: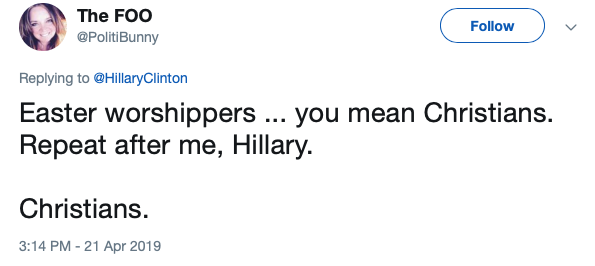 I would call Obama and Clinton cowards, but that would be disrespectful to cowards. Say it with me. It's not that difficult — Christians! See, that wasn't hard, was it?
H/T: Chicks on the Right