Sometimes the truth hurts. And unfortunately, this would be one of those times.
Parkland shooting victim Meadow Pollack's brother, Hunter Pollack, blasted the FBI in a tweet Monday for their shortsightedness when it comes to the agency's priorities, slamming the agency for failing to protect his sister and fellow classmates while still finding plenty of time to go after evidence of an alleged affair with a porn star.
Here's Hunter's tweet: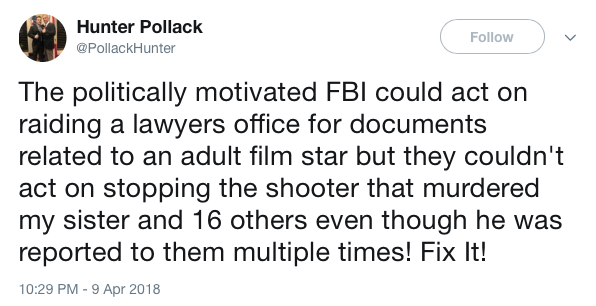 The media's obsession with a porn star Trump allegedly slept with more than a decade ago just shows the depths the media will sink to in order to take down a sitting president. These are the same people who didn't think it was a big deal when former president Bill Clinton soiled the Oval Office with his transgressions.
But while they've had plenty of time to focus on Trump's lawyer, the FBI dropped the ball in preventing the Parkland shooting. Big time. 
In the days following the shooting that left 17 people dead -- including Meadow Pollack -- inside the Florida high school, the FBI admitted in a statement that they totally failed to follow procedure after getting a tip that the would-be shooter posed a danger to himself and others well before the actual shooting took place, saying:
On January 5, 2018, a person close to Nikolas Cruz contacted the FBI's Public Access Line (PAL) tipline to report concerns about him. The caller provided information about Cruz's gun ownership, desire to kill people, erratic behavior, and disturbing social media posts, as well as the potential of him conducting a school shooting.

Under established protocols, the information provided by the caller should have been assessed as a potential threat to life. The information then should have been forwarded to the FBI Miami Field Office, where appropriate investigative steps would have been taken.

We have determined that these protocols were not followed for the information received by the PAL on January 5. The information was not provided to the Miami Field Office, and no further investigation was conducted at that time.
Even CNN was forced to report the FBI "dropped the ball" in following up on red flags about the shooter.
You might remember the Pollack family from their visit to the White House a few days after the shooting in Parkland. Meadow's father, Andrew Pollack, gave a very passionate speech to President Trump and a slew of reporters about the need to fix the problem of school shootings.
"We as a country failed our children," Pollack said. "This shouldn't happen. I can't get on a plane with a bottle of water, but some animal can walk into a school and shoot our children."
Here's video of Pollack's speech: