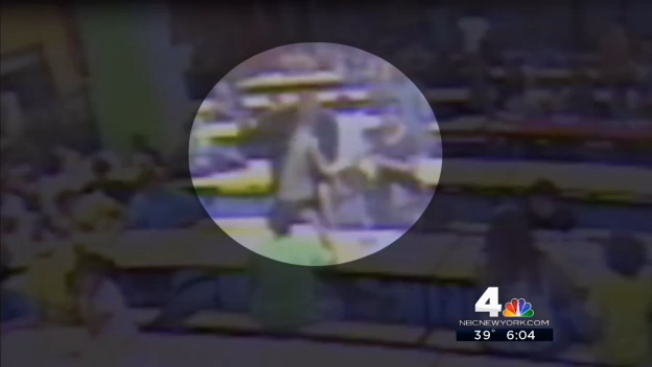 A Brooklyn family is moving to sue New York City after a school aide punched their 11-year-old autistic son in the face so hard it caused a concussion.
Father Anatoly Veltman Sr. announced his plans to sue the city for $5 million for damages, both physical and emotional, after he and his attorney, Sanford Rubenstein, saw the grainy surveillance footage of the malicious punch, which took over a year to obtain by a court order.
Veltman is also pushing for a change in the way the city hires and trains paraprofessionals working with special needs children.
The former school aide, Milton Parker, is a real stand-up guy. He says he's not even sorry.
"Who gets hit and doesn't respond?" Parker told The NY Daily News. "The kid punched me in the eye first and as a reflex he got hit back."
He even feels that the camera footage proves his case somehow.
"I knew it was on camera," Parker, 59, said. "If it was intentional, I would have taken him to another room and beaten the snot out of him."
"How can someone work for the Department of Education with that kind of mentality?" Rubinstein said of Parker's comments. "Clearly the DOE needs to review their hiring procedures."
Parker reportedly approached the autistic boy, also named Anatoly, after he spilled ice and threw a napkin on the floor. Anatoly responded to Parker, who is black, by saying, "This table is for whites only." 
Anatoly, who has the mental capacity of a 6-year-old, apologized for his comment but then punched at Parker. It isn't unusual for children with autism to act out physically and Anatoly's father said that paraprofessionals should be trained to know better than to respond with violence.
"I was very upset to see my son abused by someone entrusted to care for him," said Anatoly Veltman Sr. "I saw a huge blue bruise above his eye, it was a big bump and it was clear to me he was punched with great force."
Parker, who is 59-years-old, was originally indicted for felony assault but ended up pleading guilty to misdemeanor assault that only forced him to attend anger management and serve probation. He retired shortly after and is now collecting pension.
Still, Parker wants to portray himself as the victim and complained, "My whole life was destroyed because of this one incident."
Veltman is now urging all other paraprofessionals to endeavor to be kind and gentle to children with special needs.
"To people working with special-needs children, be compassionate. Figure out non-confrontational ways of dealing with them. These children don't think the way we think, their perception is different, their reality is somewhere within them. You've got to understand that and do everything for their safety and hopefully their education," Veltman urged.