(Image: Screenshot/Instagram - @devon33gales)
For all the flak we give technology for the dumbing down of society, some technological advances are helping people do things once thought impossible.
Former Southern University football player Devon Gales walked for the first time Thursday after being paralyzed as a result of a hit he received during a 2015 game against the University of Georgia.
According to Fox 5 - Atlanta:
Thursday, with assistance, Devon took his first steps at Atlanta's Shepherd Center. He was able to walk thanks to a machine called "The Indego," which his mother [Tanisha Gales] told FOX 5 is similar to having robotic legs[…]

Tanisha said her son walked for 16 minutes, and she was left speechless.
Devon took to Instagram to share his special moment and praise God.
Here is the post: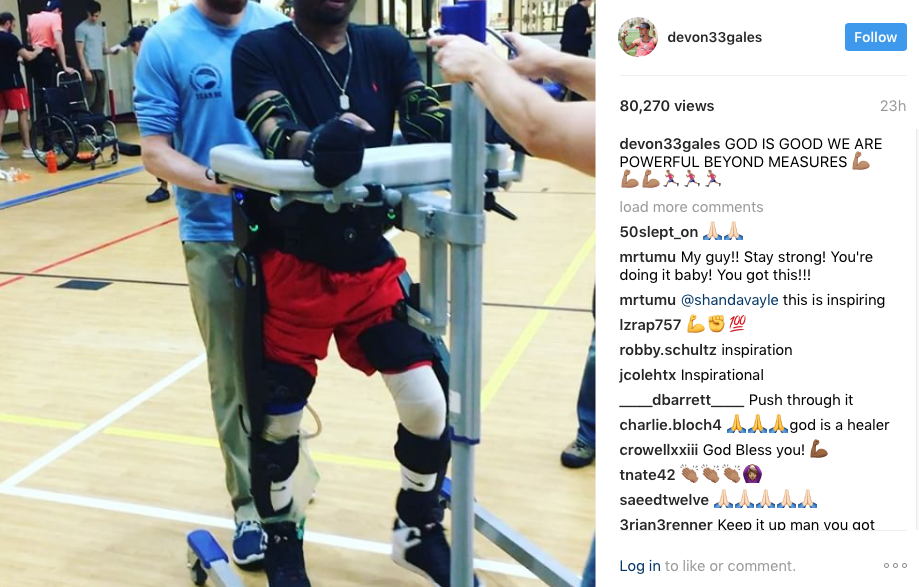 The caption of Devon's Instagram profile says it all, "POWER of GOD is REAL."
With his strong faith in God, Devon has persevered through his tragic ordeal and gave him the determination to walk again.
"I was overjoyed and just so excited to see him up again," Tanisha said. "When I asked him how it felt, he said just like he never stopped walking!"
Way to go, Devon! Keep it up!
For video of Devon's accomplishment, watch below: