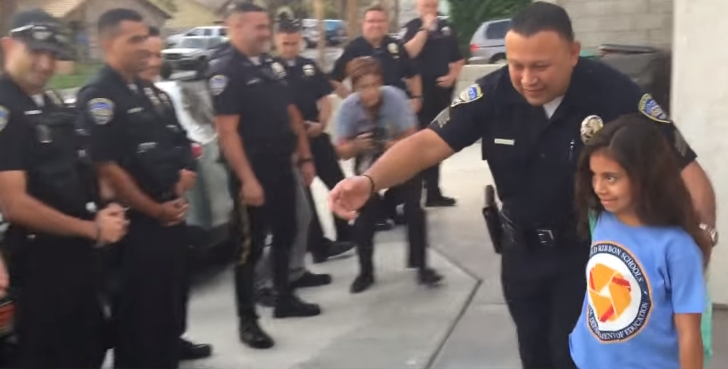 A little love can go a long way in the life of a young child.
The daughter of a recently fallen police officer got a very big surprise Monday morning while she was getting ready for school.
Eight-year-old Vanessa Vega was about to head off to school for the first time since her father, 63-year-old Jose "Gilbert" Vega, was killed in the line of duty in Palm Springs, Calif.
According to KMIL in Palm Springs:
About a dozen officers surprised Vanessa outside her home with an impromptu appearance that included hugs and a personal escort to her classroom.

Bystanders at the school initially wondered if the large police presence meant something was amiss, said Sgt. William Hutchinson, but the concern turned quickly to curiosity and joy, with Vanessa's classmates posing for pictures with the officers throughout the morning.
Both Vega and 27-year-old Palm Springs officer, Lesley Zerebny, were shot and killed on Oct. 8 after a mother called police on her son, saying that he was causing a disturbance. Another officer was wounded in the shooting.
Zerebny had just returned to the force from maternity leave after giving birth to a now four-month-old baby girl.
Of the welcome surprise for young Vanessa, Hutchinson said, "We want them to know that we're there for them. We're going to be there for good times and bad."
Thank you for supporting MRCTV! As a tax-deductible, charitable organization, we rely on the support of our readers to keep us running! Straight from Founder and President, Brent Bozell, please read the MRC request for support here to see how you can join the movement!