A Pakistani actress tweeted a vile message about killing Jews amid reports that Israel was defending itself against another barrage of rocket fire from the Gaza Strip this week.
Veena Malik, whose 1.2-million-follower Twitter account has since been cleared (whether voluntarily or by force) of all but one tweet, blasted out a quote supposedly from Hitler in support of murdering Jews. 
"I would have killed all the Jews of the world… but I kept some to show the world why I killed them," Malik tweeted, attributing the statement to Adolf Hitler (though it's not clear whether the quote is genuine).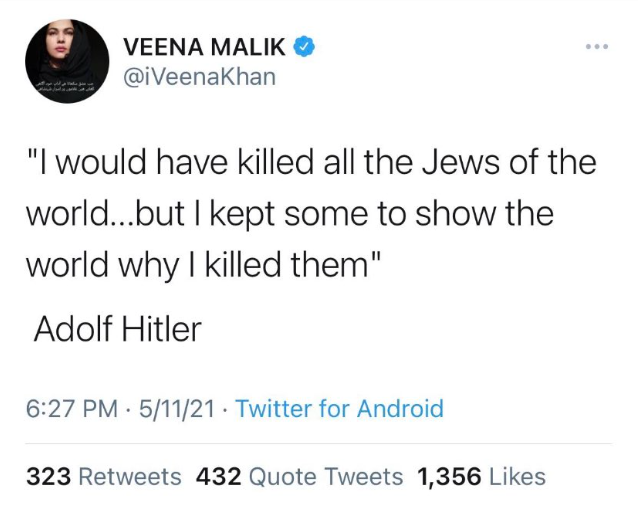 Malik, whose claim to fame stems from having appeared in several Bollywood and Pakistani films as well as being a hostess on TV, had also repeatedly tweeted in support of Hamas, praising the terrorist organization as it launched hundreds of bombs at Tel Aviv, many of which were stopped by the nation's Iron Dome defense. 
International reports state that at least 43 Palestinians and six Israelis have been killed since Monday, though that number is at least somewhat based on claims from Hamas and is difficult to confirm. Around 200 of the more than 1,000 Hamas-launched rockets didn't clear the border and landed in Gaza, making it difficult to know how many people have been killed by Israel's defense and how many have died due to the Palestinian organization's own terrible aim and utter disregard for its own people. 
Israeli media reports a 52-year-old Jewish father and his 16-year-old daughter died when a rocket hit their car, while another man died in a blast that struck his Jeep near the border.
Meanwhile, Arab protesters in Israel have reportedly launched a number of ground attacks within the country, burning synagogues, throwing homemade bombs through windows, and cutting off power to homes in Lod.