At Least 12 people were arrested on Sunday following a protest in which members of an Antifa-linked anarchist group, Oly Housing Now (OHN), refused to leave a hotel in a protest for permanent housing for the homeless. The protest took place in Olympia, Washington which has been a hotspot for liberal activist groups for months now. 
In a social media post on Sunday, OHN demanded that "Thurston County to Pay for the Rooms with FEMA Funding That Covers Non-Congregate Shelter at 100 percent." They also demanded an end to the clearing of homeless encampments, hotel vouchers for the homeless, an increase in impact fees on luxury and commercial properties, and that the city and county incentivize housing construction for those who meet the extremely low income limit.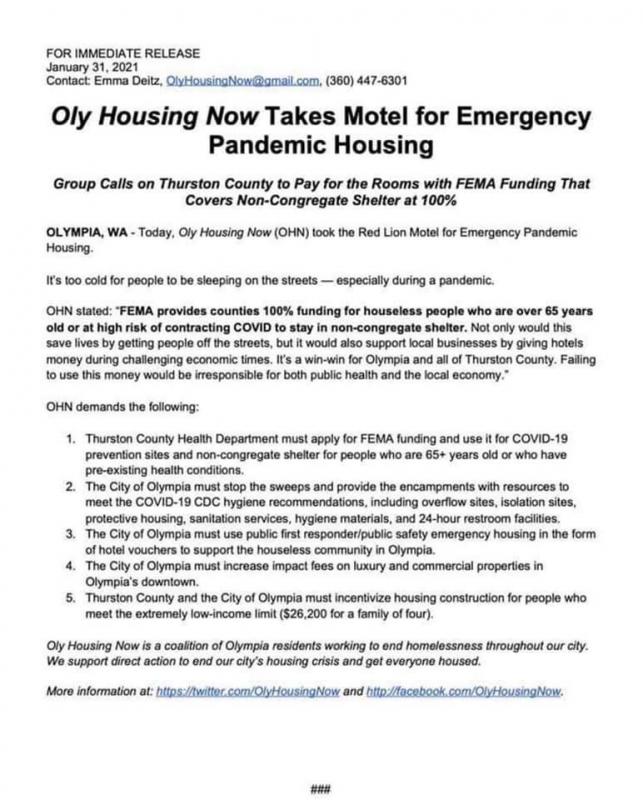 OHN claimed to have purchased 17 hotel rooms in the Red Lion Inn in Washington's capitol city for homeless people in nearby encampments.
At around 12:30pm on Sunday according to the Post Millennial, the Olympia Police Department responded to multiple 911 calls that a group of disorderly protestors were attempting to "take over the front desk." Hotel employees said the group entered the lobby armed with knives, axes and batons. The staff was then advised to seek shelter and wait for law enforcement to arrive.
When police arrived, a group called Olympia Anarchist Mutual Aid were bringing supplies into the building. The group claimed that they booked the hotel rooms Saturday night, moved 33 people in, and refused to leave on Sunday during check-out. The group also took to Twitter to recruit the support of sympathizers. 
 
Join us for a Housing Justice Rally this Sunday at 11am at Sylvester Park!

Stand as a community in support of housing for our houseless neighbors! pic.twitter.com/dzqtevfxdA

— Oly Housing Now (@OlyHousingNow) January 28, 2021

Interestingly enough, Twitter neglected to flag the tweet which called for support of the group's illegal behavior. Supporters gathered in Sylvester park around noon and marched to the hotel.
At around 6 p.m., local businesses were advised to shut down due to the activists. 
Less than an hour later, police appeared to be making arrests and escorting protesters out of the hotel while SWAT did room-to-room searches. Later that night, flash bangs were seen through hotel windows and some of the occupiers may have lit furniture on fire. On the outside of the hotel, sympathizers were harassing and preventing reporters from documenting the events. 
 
"F— your sister, f— your wife ... I hope you all f—king die. Rest in piss!"

Protesters confront police in Olympia, Wash. after they arrest the #antifa who sieged a Red Lion hotel. Police are making arrests. Video by @jasonrantz: pic.twitter.com/MYmsE2bKAa

— Andy Ngô (@MrAndyNgo) February 1, 2021

​​​​​​​The City of Olympia released a statement following the protest, in which Olympia Mayor Cheryl Selby called the protest "unproductive," saying violent tactics "won't make the mission more attainable."
The Red Lion Inn protest follows multiple similar "rallies" calling for housing for homeless people. Recently an Antifa-linked activist group called Tacoma Housing Now booked rooms on Christmas Eve at a Travelodge in Washington and then refused to leave the establishment. Tacoma Housing Now tweeted their support for OHN's protest on Sunday:
January 31, 2021