Exactly one week ago, MRCTV's Eric Scheiner reported that national gas prices - according to AAA - was "$3.36 a gallon." Well, those numbers are updated daily, and it's not a good look for the Biden regime, who ironically touted a two-cent drop in gas prices a little over two months ago.
Fast forward one week, and gas prices have gone up 11 cents, also according to AAA. 
Don't believe it? See for yourselves (Screenshot/AAA)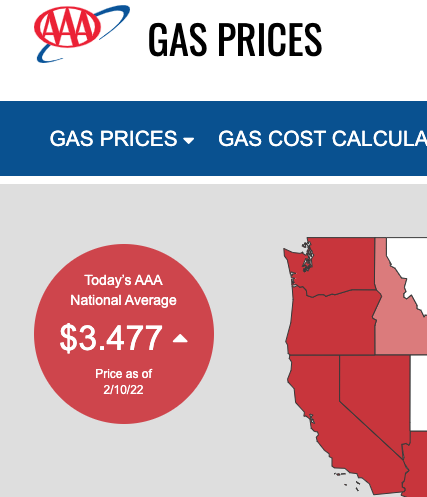 The AAA logo, the price and Thursday's date can be seen in the image above. And if you still don't believe it, just click the "AAA" link above.
The establishment corporate media can play defense and provide cover for any and all Acela Corridor (the area between Washington D.C. and New York) they want. It doesn't change the FACT that the proof are in the numbers average, everyday people are seeing in their travels, whether it's a longer trip or they're simply commuting to and from work.
I can tell you from personal experience that the local gas station by where I live in northern Virginia has gone up 30 cents in just the last three weeks. I pass by this station every single day. Three weeks ago, the price was $3.31/gal. Wednesday morning I saw that the price was at $3.61/gal. And the price didn't even go up one or two cents per change in price.
I remember as clear as day the price got down to $3.31 at one point, then raised to $3.41, to $3.47, to $3.51, to $3.57 until it hit its current price of $3.61. 
I don't know about all of you, but a 30-cent jump in gas prices in that short of time puts a decent dent in your wallet.