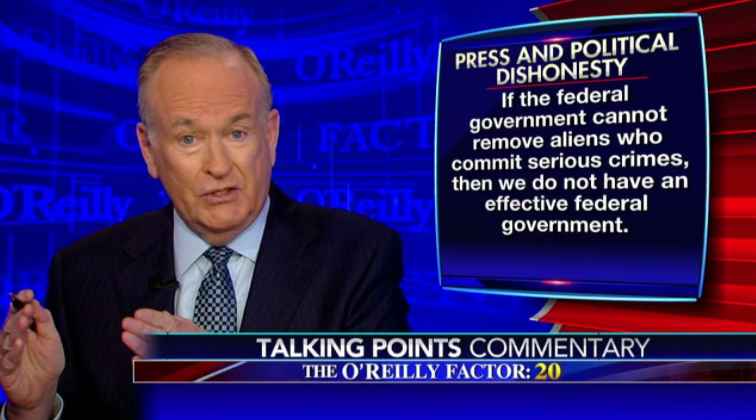 (Image via Twitter)
On Monday night's "The Factor," Fox News host Bill O'Reilly addressed the "stunning display of dishonesty from the radical press" last week with its coverage of the immigration raids that led to the arrests of hundreds of criminal illegal aliens who had committed crimes in the U.S.
Last week, federal immigration officials arrested more than 600 people across at least 11 states, The New York Times reports. 
Of those arrested, 75 percent were criminal illegal aliens who had been convicted of serious crimes such as homicide and rape, the Department of Homeland Security said in a statement. 
O'Reilly argued that the facts behind the raids "have largely gone unreported" by the media, including how most of those taken into custody had been deported before.
"But those facts have largely gone unreported by the American press and by the radical left, which is actively misleading you," said O'Reilly.
O'Reilly slammed the media for reporting on the raids dishonestly, actually reaching "the level of hysteria" with headlines such as "The Trump Deportation Regime Has Begun" and "Immigrant Community on High Alert, Fearing Trumps' 'Deportation Force.'"
"We could find no headlines in major newspapers that bannered the fact that the raids were targeted at illegal aliens who had committed serious crimes," he said. "That's not press bias. That's blatant dishonesty."
"The illegal immigration issue has been set up by the media to demonize President Trump as a racist and a brutalizer of the poor," O'Reilly continued. "It's flat out disagraceful."
"If the federal government cannot remove aliens who commit serious crimes, then we do not have an effective federal government," he said.
Do you agree?
Check out the rest of his remarks below.