According to Fox News, Deserae Morin, a Vermont Republican who is running for a seat with their House of Reresentatives claims that she received a letter which includes death and rape threats. She believes the letter was sent from a local, because it specifically was made using her promotional campaign materials cut out into block letters. 
The letter, whose language is graphic and disturbing, reads: 
"C**t,

We are hunting you. My comrades will kill you and the Constitution. First we will rape you for days. You will scream and know that agonizing horror. No equal rights for Republicans. Socialism is here. Open season for Republican death in Vermont.

Fear our revolution. It's time.

AA"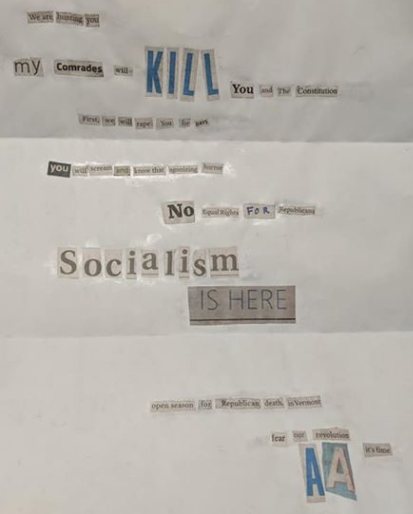 According to the Daily Caller's coverage, she was scared but not surprised at this letter's brutal nature:
"I'm really not surprised by the letter, considering everything that is happening in our country right now," Morin told The Daily Caller in an email. "We see calls for aggressiveness from prominent Democrats and acts of radical leftist violence happening regularly and with increasing intensity. But I will admit that I never expected this to happen to me. For me this is about Liberty vs Totalitarianism. This is fascism in action, subscribe to my ideology or face violence."
The Vermont State Police are reportedly in the process of investigating the alleged threats.