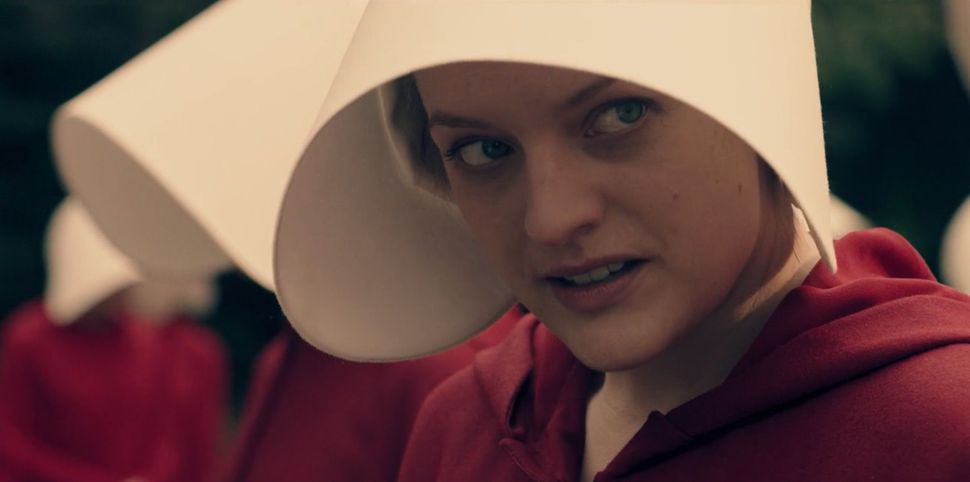 Grab your sisters! This take is hotter than a Kappa party during rush week.
Total Sorority Move has published a full-throated defense of the dystopian society from the novel and new Hulu series "A Handmaid's Tale." And it's (probably) not even satire.
Our able author declares she is "really into" a society where a class of women are sex-slaves because it "presents an alternate future for me where all my financial problems are taken care of, and I can live in peace while being taken care of by a rich, attractive man." She doesn't sound like she's kidding, either.
In Margaret Atwood's 1985 feminist novel, that "rich attractive, man" actually already has a wife and you are his sex-slave forced to bear his children. But for our author, this just means he's a man "I can sleep with but am encouraged to avoid any commitment to whatsoever."
It's not just no-strings-attached sex that make the republic of Gilead a Sorority girl's dream -- it's also the sisterhood. Offred, the protagonist, gets to hang out in an "adult sorority," or housing for sex-slaves to government officials. This gives you "all of the social benefits of remaining single while still getting home to your own mansion every night."
OMG! Can you say #goals? Clearly Offred -- who, in the novel, is kidnapped from her family and forced to have demeaning sexual intercourse for the purpose of childbearing -- is "nothing more than a whiny little b--ch," according to this article.
While I'm not on board with the left-wing narrative that "A Handmaid's Tale" is some sort of consequence of the pro-life movement or the Trump presidency. I agree with Heather Wilhelm's take in National Review that this narrative is silly and typical of outrage-driven modern "feminism." Asking you to pay for your own birth control is clearly not the same as kidnapping and enslaving you.
But this article from TSM is a fascinating social snapshot revealing how feminist and liberal tropes are run through the cultural wash and come out on the other side. The media is constantly promoting the idea that women must engage in commitment-free sex in order to be truly free and "empowered." The Total Sorority Move article just took the next step.
According to them, women in the Handmaid's Tale get to "hook up" without any emotional attachment, and this is seen as a "good" -- even though it is only possible because the women are literally slaves of the state. Way to go, feminists.