If there's a Karen Of the Week award, Mika Brzezinski wins it.
The MSNBC host said she's demanding to talk to the manager of Twitter – no, literally – insisting that the social media platform deletes President Donald Trump's account.
Brzezinski, having long been vocally anti-Trump, went on a tirade over the president's recent tweets suggesting her husband, fellow MSNBC host Joe Scarborough, may have had a hand in the death of a former intern decades ago. Trump tweeted on Wednesday that "Psycho" Scarborough shouldn't be allowed to "walk the streets."
In response, Brzezinski called Trump a "cruel, sick, disgusting person."
"You're a sick person, to put this family through this, to put her husband through this, to do this just because you're mad at Joe, because Joe got you again today," Brzezinski responded. on her show Wednesday.
"Twitter, you shouldn't be allowing this, and you should be taking these tweets down, and you should be ashamed of yourself. You'll be hearing from me on this, because this is B.S." she added. "But Donald, you are a sick person. You're really a cruel, sick, disgusting person."
Brzezinski then fired off a series of tweets asking why Twitter CEO Jack Dorsey hasn't yet banned the president from Twitter (a question Dorsey has been asked and answered multiple times, by the way). She then insinuated that Twitter would be held responsible for alleged "libel" committed by the president, asking, "At what point is Twitter a part of this?"
 
.@jack At what point is @Twitter a part of this? TAKE DOWN TRUMP's ACCOUNT— the world world be safer. Retweet if you agree

— Mika Brzezinski (@morningmika) May 20, 2020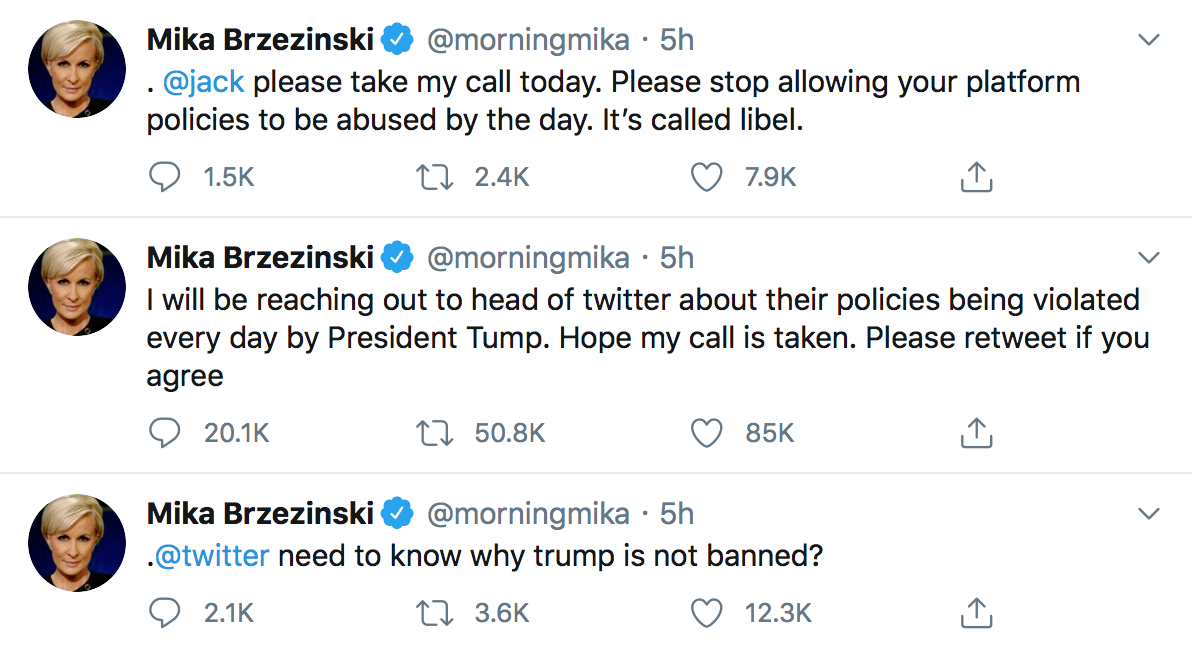 "Please stop allowing your platform policies to be abused by the day. It's called libel," she tweeted, asking Dorsey to "please take my call today."