Parents of students at an Ohio middle school are losing it after a teacher gave their kids a "diversity" assignment asking them to rank whether a hypothetical group of people should live or die based on their race, gender, sexual orientation or religious beliefs.
A teacher at Roberts Middle School in Cuyahoga Falls, Ohio, gave students a list of 12 imaginary people of various genders, races, religions, and sexual orientations, then presented them with a scenario in which only eight of these hypothetical characters could board a spacecraft and escape a doomed Earth. The list included descriptions like "a homosexual male, professional athlete," "a 21-year-old, female, Muslim international student" and "a racist armed police officer who has been accused of using excessive force."
The assignment then asked students to "rank" the 12 people according to who is most "deserving" of a spot on the shuttle, ultimately leaving four to die in some imaginary apocalypse.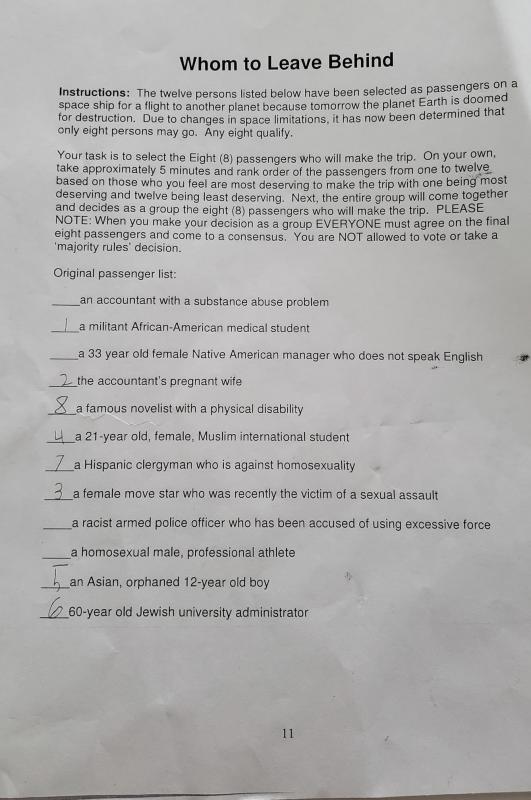 The teacher, who was unnamed in reports, allegedly claimed the assignment was meant to "engage in an activity in diversity designed to promote tolerance and break down stereotypes."
Adam Miller, a local councilman who says he got a number of calls from parents angry about the assignment, posted the assignment online and accused the teacher of "implanting prejudicial thoughts in these young impressionable minds" in a Facebook post.
"This is NOT building a - "culture of caring" - this is building a culture of animosity, antagonism & hostility!" Miller said, adding, "Why can't kids be kids? Sad to see this indecent indoctrination forced upon our kids."
Parents likewise expressed outrage at the assignment, asking what race and religion had to do with whether or not someone should die.
One local mom said her son felt "uncomfortable" having to rank people according to whether they deserved to die based on their gender or religion.
"Everything in here is very judgmental and all these stereotypes — they are just negative stereotypes and I don't think it's appropriate,"Tia Salchak said. "He told me that he didn't feel comfortable putting any answers, like putting any numbers down on it, because he says he felt like he was either being racist or judgmental and I don't raise my kids to judge others."
Cuyahoga Falls Superintendant Dr. Todd Nichols told Fox News the school district was looking into the situation. Miller, however, said he spoke with the teacher, who reportedly agreed to remove the assignment from his curriculum.
"We are having a conversation at the building level and early next week at the district level about the assignment and where it came from," he told Fox News.
The assignment was apparently part of a larger "Diversity Activities Resource Guide"developed by the University of Houston, which also includes activities like the "Privilege Walk" designed to single out students who have "privilege" – like white ones – and those who supposedly don't.
The guide also claims that white people are inherently racist "by definition" due to their "privilege," while minorities cannot be racist because they lack "institutional power." Here's that fun little excerpt:
"In this school of thought, there is a distinction made between a system of oppression like racism and prejudice. For example, a person of color may be prejudiced against white folks and think they all really suck, but because s/he doesn't have institutional power, s/he is not a 'racist' though is prejudiced. And by definition, all persons fitting a privileged category are '—ist" because it has to do with where they fit in society."
 So no space shuttle for you, white folks. Guess that's one privilege you won't be enjoying.