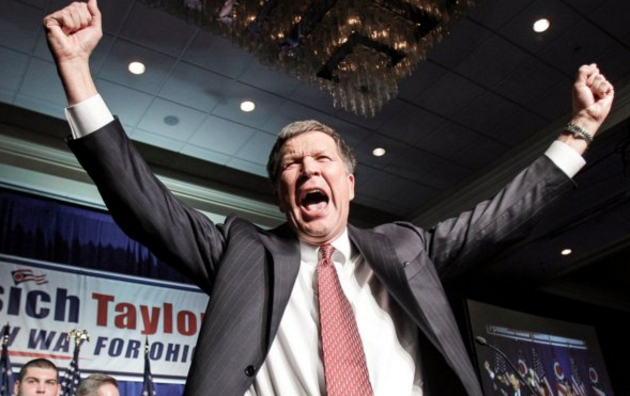 (Image via Twitter)
GOP candidate John Kasich took his home state of Ohio during Tuesday's primaries, putting to bed word of him dropping out of the 2016 presidential race. 
Prior to addressing his supporters at his campaign's headquarters in Ohio, Kasich gave an interview with CNN, during which he expressed how happy he is with his "positive campaign."
"I'm in the best position to beat [Hillary]," he insisted, "and we're gonna get a lot of momentum.""
For those people who like the underdog… it's pretty cool. We're excited."
In response to CNN's Jake Tapper who said Kasich's campaign is in desperate need for money, Kasich said, "Tell Jake I'll have all the money I need."
Kasich won with 43 percent of the state's primary votes, followed by GOP presidential frontrunner Donald Trump with 34 percent and Texas Sen. Ted Cruz with 15 percent.  
Prior to Tuesday's primaries, Rubio called on his supporters to vote for Kasich in Ohio in an effort to prevent Trump from getting enough delegates to secure the Republican Party's nomination. 
Listen to a clip from Gov. Kasich's remarks below.