Democratic candidate for Ohio governor and current Ohio Supreme Court Justice Bill O'Neill authored a public post on Facebook in which he claims he slept with 50 women in the past 50 years as part of his rant defending "all heterosexual males."
In his Facebook post, which has since been edited, O'Neill wrote that he decided to speak out after the "dogs of war" attacked Sen. Al Franken (D-Minn.) in the wake of revelations that he was photographed with his hands near a woman's breasts while she was sleeping. According to O'Neill, his Facebook post was on "behalf of all heterosexual males" who apparently felt similarly attacked by sexual assault allegations.
O'Neill went into great detail about his sexual history, writing that he has been "sexually intimate with approximately 50 very attractive females," going into detail about who they were and where they had sex: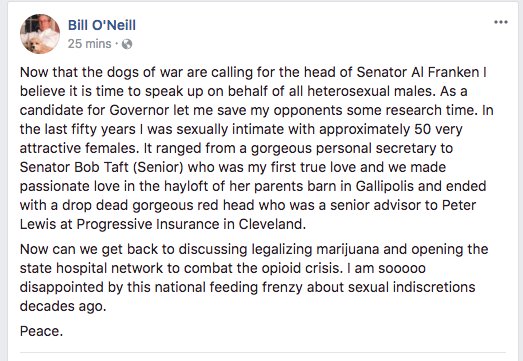 O'Neill confirmed to Cleveland.com that he wrote the post.
O'Neill reportedly told Cleveland.com that it was not inappropriate for him to write about his sex life online, despite his job title and the fact that he is running for office. He did, however, tell Cleveland.com he was not sure if the actual number of women he has slept with is 50 because he "doesn't keep count."
ABC reports O'Neill also made comments defending Franken against the media firestorm.
"Democrats are now calling for Al Franken's removal from the United States Senate for an indiscreet act for which he has apologized, the victim has accepted the apology — and now the feeding frenzy begins," he argued.
Thank you for supporting MRCTV! As a tax-deductible, charitable organization, we rely on the support of our readers to keep us running! Keep MRCTV going with your gift here!
(Image source: Bill O'Neill, via Facebook)
MRCTV Reader,
The liberal media are terrified of the truth, especially when it leads to uncomfortable questions about their own leftist worldview.
MRCTV is the multimedia division of MRC featuring original content and aggregated videos of the news, people, and events conservatives care about.
MRCTV relies on the support of our loyal readers (and video viewers) to keep providing the news and commentary that matter to the American people, not just stories that prop up the liberal agenda.
Make a donation today. Just $15 a month would make a tremendous impact and enable us to keeping shining the light where the liberal media are afraid to tread.
— The MRCTV Team
DONATE
Connect
Sign up for our MRCTV newsletter to receive the latest news.
Sponsored Links