A 33-year-old British woman has declared her love for – and engagement to – a 90-year-old chandelier she bought on eBay.
You have no idea how much I wish I were making this up.
"Objectum sexual" Amanda Liberty reportedly spent £400 (about $535) on the pretty busted old light fixture, which she now claims she loves "kissing and cuddling." Please don't mentally proceed down that rabbit hole.
"You can't control who you fall in love with and things just went from there," she said.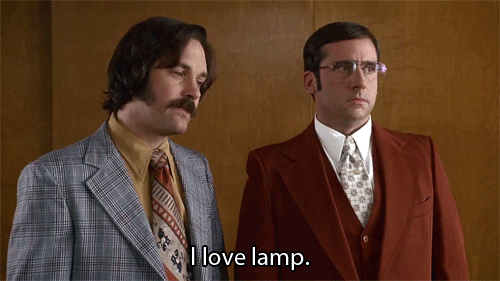 "I couldn't stop thinking about her and how beautiful she was – she has such a beautiful shape, and I could feel really amazing energy coming from her," she told Caters News Agency.
Amanda, who was previously in a relationship with a drum kit and once had a mad crush on the Statue of Liberty before they broke up over long-distance woes, has even – get this – hung a legit engagement ring on her new chandelier.

(Image via screenshot from CatersTV)
Oh, and it gets better. Or worse. I'm not sure.
Before meeting her betrothed, dubbed "Lumiere," Amanda says she was in an "open relationship" with the other 24 antique chandeliers she already owned. And she'd better be careful, lest Lumiere feel jilted – because apparently, due to her…um..."fiancee's" old age, Amanda says she prefers to snuggle with her other lamp, Jewel, more regularly.
It's totally O.K., though, because Amanda assures us that "none of my chandeliers are jealous of each other." (Probably because they're chandeliers.)

(Image via screenshot from CatersTV)
But in the age of Anything Goes, this is now the world in which we're living. Amanda calls her object-focused sexuality a "natural orientation" that doesn't hut anybody, saying she's simply "following her heart." So really, who are we to argue?
Well, actually, we're sane people. But that doesn't seem to matter much these days.