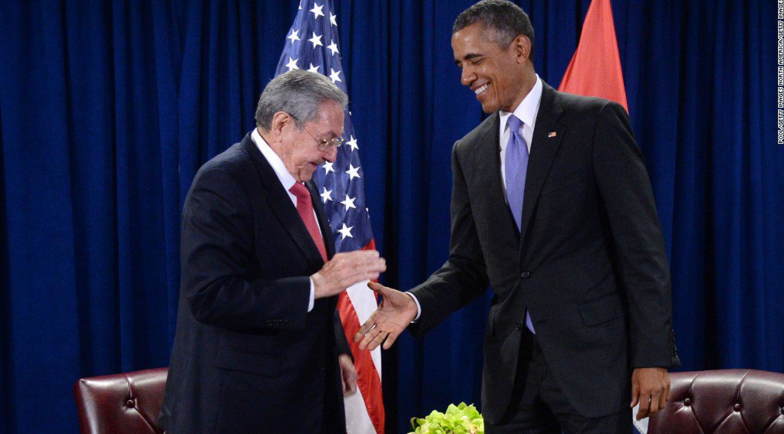 (Image via Twitter)
President Obama and Cuban leader Raúl Castro delivered a press conference after a historic meeting in Cuba on Monday.
Obama said during his remarks that he looks forward to forging a new and improved diplomatic relationship between the U.S. and Cuba. 
"This is un nuevo día – a new day between our two countries," said Obama. "We have a half a century of work to catch up on."
He said that the official talks between the two governments have "one overarching goal: advancing the mutual interests of our countries and improving the lives of our people – both Cubans and Americans."
"We are moving forward and not looking backwards," said Obama. "We don't view Cuba as a threat to the United States."
"But as is true with countries around the world, we will continue to stand up for basic principles that we believe in," he went on. "America believes in democracy. We believe that freedom of speech, freedom of assembly, freedom of religion are not just American values, but are universal values."
During the press conference, Obama announced that the next U.S. human rights dialogue would take place this year in the Cuban capital of Havana. 
He also noted that direct commercial flights, cruises, and ferry services from the U.S. to Cuba will resume in 2016.
Obama made history Monday as the first sitting U.S. President to visit Cuba in nearly 90 years. 
Listen to a clip from the Pres. Obama's remarks below.