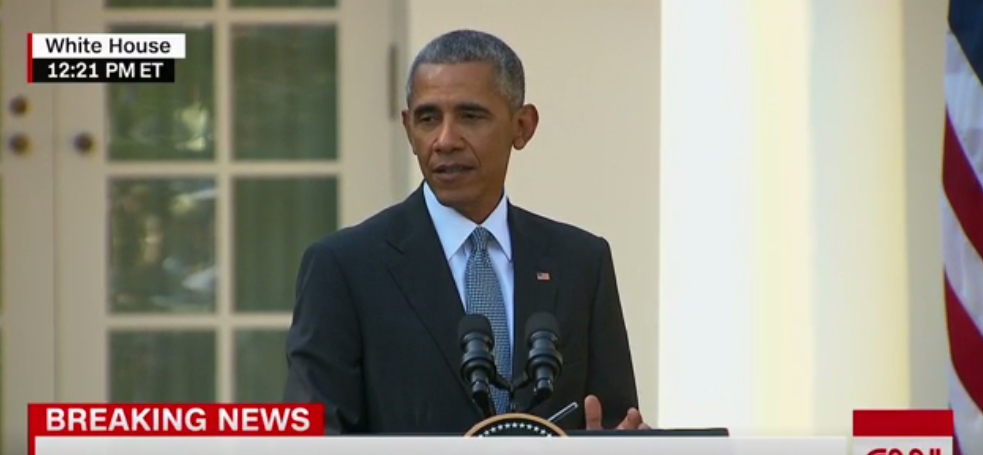 (Image via Screenshot)
During a press conference in the White House Rose Garden on Tuesday, President Barack Obama took the opportunity to criticize Republican presidential candidate Donald Trump for his claims that the election is "rigged" in his Democratic rival's favor.
"It doesn't really show the kind of leadership and toughness that you'd want out of a president," Obama fired. "You start whining before the game's even over?"
"If whenever things are going badly for you and you lose, you start blaming somebody else?" he went on. "Then you don't have what it takes to be in this job."
Speaking alongside Italian Prime Minister Matteo Renzi, Obama added that Trump "trying to discredit the elections and the election process before votes have even taken place" is "unprecedented" in modern American political history.
Renzi also took a shot at Trump during his remarks, saying the future is about building bridges, "not walls."
"The name of the future has to be education not intolerance, sustainability not distraction, trust not hate, bridge[s] not walls," he said.
Trump and his campaign have repeatedly claimed that the election is rigged in Hillary Clinton's favor.
He tweeted on Monday that, "Of course there is large scale voter fraud happening on and before election day."
Trump also blamed the media, calling their coverage of his campaign a "hit job" and accusing broadcast networks of "colluding" with the Clinton campaign. 
MRCTV Reader,
The liberal media are terrified of the truth, especially when it leads to uncomfortable questions about their own leftist worldview.
MRCTV is the multimedia division of MRC featuring original content and aggregated videos of the news, people, and events conservatives care about.
MRCTV relies on the support of our loyal readers (and video viewers) to keep providing the news and commentary that matter to the American people, not just stories that prop up the liberal agenda.
Make a donation today. Just $15 a month would make a tremendous impact and enable us to keeping shining the light where the liberal media are afraid to tread.
— The MRCTV Team
DONATE
Connect
Sign up for our MRCTV newsletter to receive the latest news.
Sponsored Links