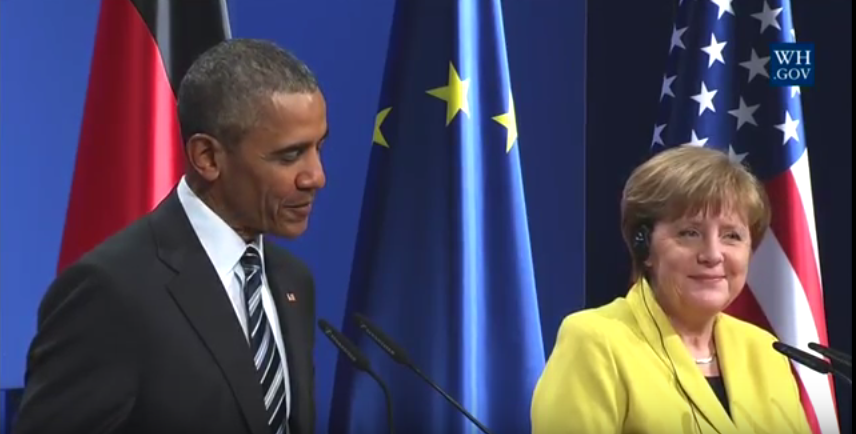 (Image via Screenshot)
During a joint news conference in Hannover, Germany on Sunday, President Barack Obama praised German Chancellor Angela Merkel for her handling of Europe's migrant crisis.
Obama commended Merkel as being "on the right side of history" for allowing thousands fleeing violence in Syria and other countries in the Middle East to resettle in her country.
"I want to once again commend Angela for her courageous leadership as Germany and Europe respond to migrants who are desperately fleeing this Syrian conflict and conflicts elsewhere in the region," said Obama.
"I know politics around this issue can be difficult in all of our countries," he added, referring to domestic backlash he and Merkel have experienced for their respective refugee programs.  
"She is on the right side of history on this," the president argued. "In this globalized world, it is very difficult for us to simply build walls."
Obama noted how both he and Merkel believe the solution to the conflict in Syria is a "political" one.
"We remain deeply concerned about the upsurge in fighting in Syria over the last several days," said Obama, "and we continue to agree that the only real, durable solution is a political solution that moves Syria toward an inclusive government that represents all Syrians."
The two world leaders disagree on one issue in particular: creating "safe zones" in Syria.
Merkel views "safe zones" as a viable option to better provide humanitarian aid to persons fleeing violence in the region.
Obama voiced his dissent, saying he believes establishing such safe havens for refugees would be "difficult."  
"As a practical matter, sadly, it is very difficult to see how it would operate short of us essentially being willing to militarily take over a chunk of that country," he said.
Listen to President Obama's full remarks in the video below.