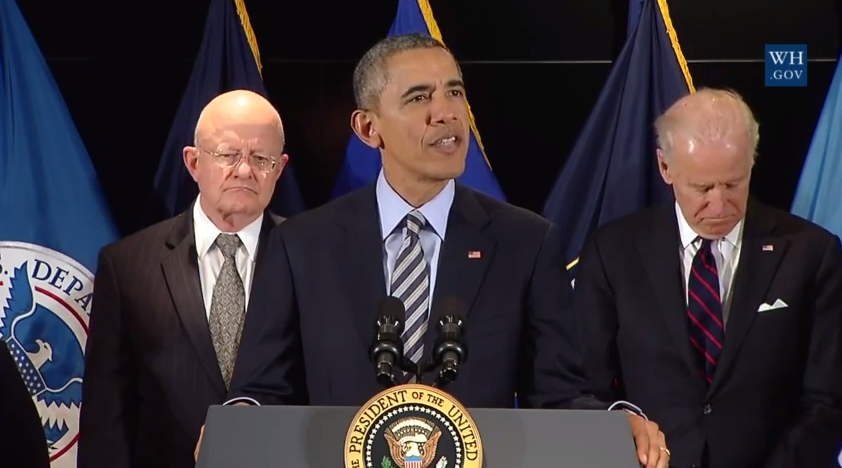 Image via Screenshot
President Obama visited the National Counterterrorism Center in Virginia on Thursday, where he attempted to once again reassure the American people of their safety in the wake of recent attacks and terror threats made on U.S. soil.
The President received a national security briefing Thursday morning. U.S. intelligence and counterterrorism officials told Obama that there exists no specific, credible information suggesting an impending attack over the holidays.
"At this moment, our intelligence and counterterrorism professionals do not have any specific and credible information on a potential attack on our homeland," said Obama. 
The President added that the U.S. has "the very best intelligence, homeland security, and law enforcement professionals in the world," whose successes in thwarting potential terror attacks often go unseen, as "this work oftentimes demands secrecy."
"What I want every American to know is since 9/11, we've taken extraordinary steps to strengthen our homeland security… And we've gotten much better," said Obama. "We have the very best intelligence, counterterrorism, homeland security, and law enforcement professionals in the world. Our folks are the best."
"Our professionals have a remarkable record of success," he went on. "Of course when terrorists pull off a despicable act like what happened in San Bernardino, it tears at our hearts, but it also stiffens our resolve to learn whatever lessons we can and to make any improvements that are needed."
"In the meantime, what the world doesn't always see are the successes -- those terrorist plots that have been prevented. And that's how it should be. This work oftentimes demands secrecy," said Obama.
He noted that, amid security concerns, refugees who seek to enter the U.S. "will continue to get the most intensive scrutiny." On a less assuring note, the visa program for fiancés that allowed the San Bernardino female attacker into the country is "ongoing."
For a short clip of President Obama's remarks, click here. For his full remarks, watch the video below.