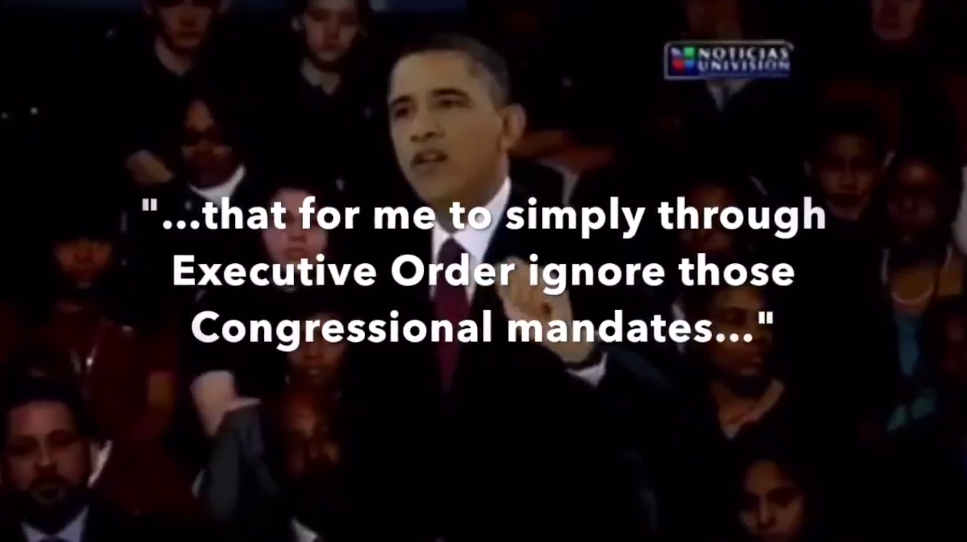 Image via Screenshot
Former President Obama in an Univision town hall with anchor Jorge Ramos in 2011 admitted in his own words that the Deferred Action for Childhood Arrivals (DACA) immigration program is unconstitutional.
"With respect to the notion that I can just suspend deportations through executive order, that's just not the case, because there are laws on the books that Congress has passed," he said.
"Congress passes the law. The executive branch's job is to enforce and implement those laws. And then the judiciary has to interpret the laws. There are enough laws on the books by Congress that are very clear in terms of how we have to enforce our immigration system that for me to simply through executive order ignore those congressional mandates would not conform with my appropriate role as president," said Obama.
Frustrated with Congress for failing to pass the DREAM Act which would grant illegal immigrants who entered the country as minors legislative amnesty, then-President Obama decided to take matters into his own hands.
He enacted DACA using his executive powers in 2012, granting hundreds of thousands of illegal immigrants temporary reprieve from deportation.
Obama on Tuesday condemned President Trump's decision to rescind the program, calling it "wrong," "self-defeating," and "cruel."
President Trump on Wednesday stood by his decision to rescind DACA, saying that he had "no second thoughts" on taking the action, as Congress has six months to pass legislation to legalize the program.
Thank you for supporting MRCTV! As a tax-deductible, charitable organization, we rely on the support of our readers to keep us running! Keep MRCTV going with your gift here!