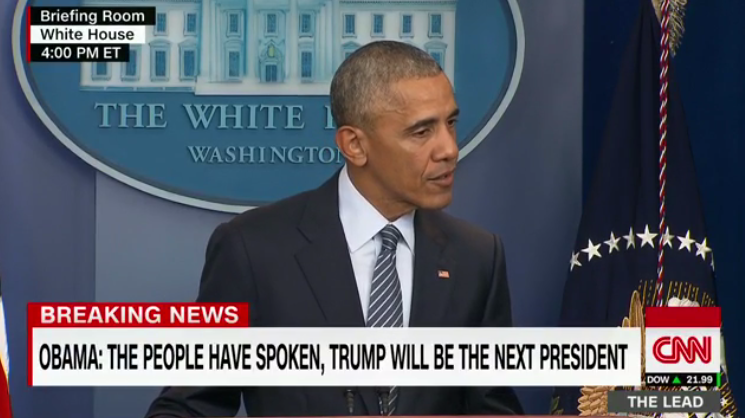 (Image via Screenshot)
President Obama held a post-election news conference at the White House on Monday, his first presser since Republican presidential candidate Donald Trump won the presidency.
When asked whether he believes Trump is qualified for the job, Obama replied, "The people have spoken."
"Donald Trump will be the next president," he said, "and it will be up to him to set up a team that he thinks will serve him well and his policies."
"Those who didn't vote for him have to recognize that's how democracy works," the President continued. "I think that, whenever you've got an incoming president of the other side, particularly in a bitter election like this, it takes a while for people to reconcile themselves with that new reality."
"Hopefully it's a reminder that elections matter and voting counts," he added, mentioning how nearly half of the American population (46 percent) did not vote in this year's election. 
Obama told reporters that he thinks it's important to allow Trump the opportunity to make decisions in his new role. 
"I think it's important for us to let him make his decisions," he said, "and I think the American people will judge over the course of the next couple of years whether they like what they see."
The President was also asked to comment on Trump's recent appointment of former Breitbart News executive chairman Stephen Bannon as his chief strategist and senior advisor, a man accused by liberals and Democrats of being a nationalist and white supremacist. 
The President responded that it would be inappropriate for him to comment on each appointment to Trump's administration.
"I think it's fair to say it would not be appropriate for me to comment on every appointment that the President-Elect starts making if I want to be consistent with the notion that we are going to try to facilitiate a smooth transition," he said. 
Following the election, Obama and Trump had a meeting at the White House.
The President said that he had "an excellent conversation" with the President-Elect on a wide range of topics, and that his top priority in the coming months is to facilitate for Trump a successful transition into the White House.