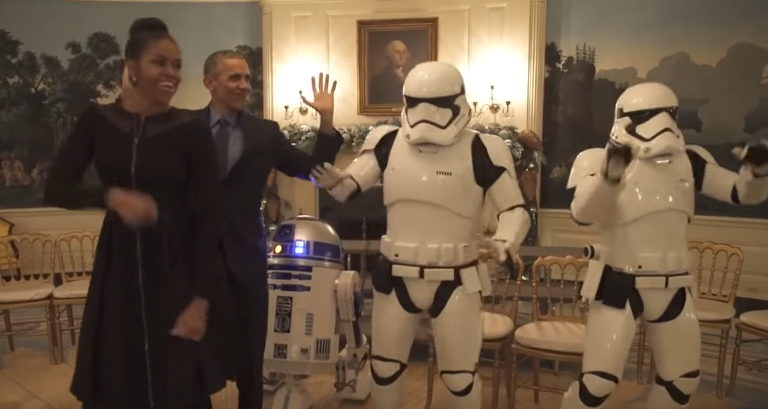 (Image: Screenshot/YouTube)
The resident celebrity worshipper of the United States, President Obama, is apparently going to party like it's 2008 one more time while he occupies the White House.
According to the Washington Post, the Obamas will be hosting a farewell soiree at the White House on Friday in order to commemorate the oh-so-phenomenal job he's done while holding the Oval Office hostage.
The Post reported:
Old standbys such as singer Usher and actor Samuel L. Jackson will most likely be there, according to another person with knowledge of the invitees. Also currently practicing their sweet moves are media titan Oprah Winfrey, who snagged an exit interview with the first lady last month on her fellow invitee and bestie Gayle King's network CBS; actor Bradley Cooper, who showed up to the French state dinner sans underpants; Beyoncé, who sang at both of Obama's inaugurations, and her husband, rapper Jay Z. We're also hearing that Stevie Wonder, who has performed at the White House, director J.J. Abrams and director George Lucas make the list.
What would an Obama party be without Jay-Z, Beyonce and Harpo Mar….sorry, Oprah? Obama is such an egomaniac and so vain that it would only be appropriate for him to throw a party…for himself.
This party is only fitting, considering that Obama spent almost as much time schmoozing with celebrities, being interviewed by YouTube "stars" and golfing as he did running the country.
The "Obama Farewell Tour" will then proceed to Chicago, where the president will make his farewell address on Jan. 10 and not mention at all how he failed his adopted hometown by letting it fall to pieces.