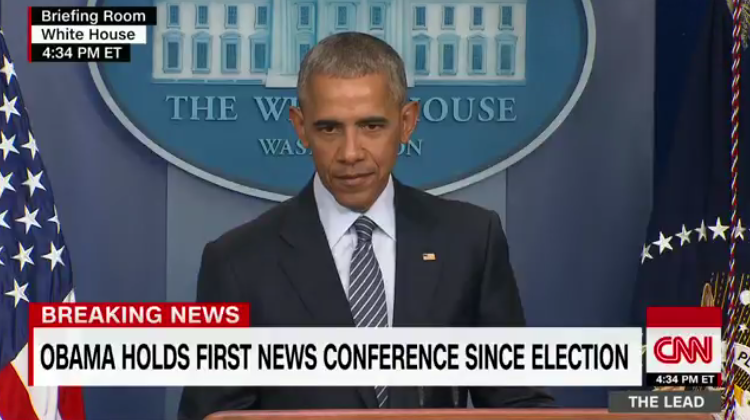 (Image via Screenshot)
President Obama said during a post-election news conference at the White House on Monday that he would continue his efforts to close the Guantanamo Bay detention center in his final two months in the Oval Office. 
"It is true that I have not been able to close the darn thing," said Obama, blaming Congress for preventing him from fulfilling his 2008 campaign promise to shut down the facility.
"What is also true is that we have greatly reduced the population," he went on. "We now have significantly less than a hundred people there."
Obama told reporters that they could expect additional transfers to take place in the next couple months. He did not specify where detainees would be transferred to. 
The President noted that Guantanamo currently houses "a group of very dangerous people" that present an issue for his objective. 
"There is a group of very dangerous people that we have strong evidence of having them guilty of committing terrorist acts against the United States," he said.
Obama said that "the nature of the evidence" against the terrorist detainees has made it difficult to bring them before a judge to be charged for their crimes. 
"But because of the nature of the evidence -- in some cases that evidence being compromised -- it's very difficult to put them before a typical Article III court."
Back in 2008, during his first presidential campaign, then-Senator Barack Obama promised to close Guantanamo Bay.  
Republicans in Congress have vehemently opposed closing the detention center, passing measures to block transfers to the U.S. for fear that released detainees might carry out terror attacks on American soil.