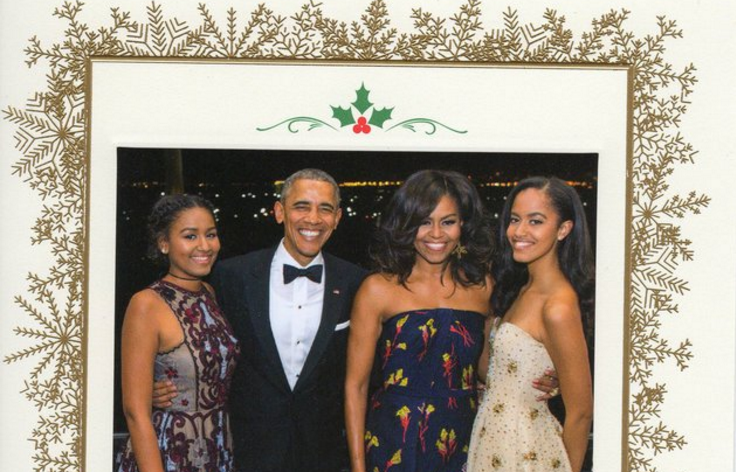 Oh, holidays with the Obamas. Such a joyous time of year. A time of year when our president touts the spirit of Christmas and the birth of our Lord and Savior, Jesus Christ.
Wait…sorry, wrong president. Obama literally does none of those things, as evidenced by the First Family's 2016 "Holiday" card.
The front of the card has a picture of the Obama family, making President Obama only the fourth president ever to feature himself on a White House Christmas card, according to the New York Post. The other three were Herbert Hoover in 1932, Franklin D. Roosevelt with wife, Eleanor Roosevelt in the 1940s, and Bill and Hillary Clinton in 1993.
The card reads:
As our family reflects on our many happy years spent in the White House, we are grateful for the friends we've made, the joy we've shared, and the gifts of kindness we've received. We wish you and your loved ones a joyous holiday season and a wonderful new year.
Since Obama has been president, not one of the White House "Holiday" cards has ever displayed the word "Christmas." Instead, every card simply wishes people "happy holidays."
While it is nice to wish everyone, of every faith, a happy holiday season, traditionally people wish other people whichever holiday they celebrate. But that doesn't seem to happen in our politically correct society.
Christmas apparently didn't bother former President George W. Bush. The New York Post reported:
In 2001, just months after the attacks on Sept. 11, his wife asked him to use Psalm 27:3 as the message on the insert. The next year, it was Psalm 100:5.

In 2007, Bush used Nehemiah 9:6, which says: "You alone are the LORD. You made the heavens, even the highest heavens, and all that their starry host, the earth and all that is on it, the seas and all that is in them. You give life to everything, and the multitudes of heaven worship you."
As someone who grew up in a predominantly Jewish neighborhood among the suburbs of Chicago, we would all say "Merry Christmas" to everyone, and no one took offense because, in essence, we were wishing other people well.
According to the New York Post:
In 2014, 2012 and 2011 — instead of mentioning Christmas or Jesus or even Santa — Obama chose to highlight his dogs, Bo and Sunny, by featuring pictures of the first pooches on the front of the cards.
Only 38 more days until the end of Obama's presidency. That will be a very nice belated Christmas present for us all.