Former President Barack Obama is continuing to campaign against President Donald Trump and the Republican Party ahead of the November midterm elections.
In a tweet on Tuesday, Obama took an unveiled swipe at Trump and the GOP by saying that "the antidote to government by a powerful few is government by the organized and energized many."  
He then urged Americans to register and vote early if not on Nov. 6 because "this moment is too important to sit out.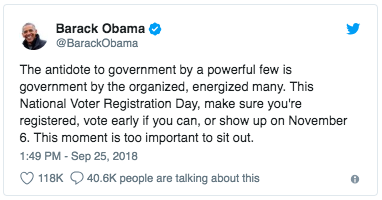 In a speech at the University of Illinois earlier this month, Obama told students that they "need to vote, because our democracy depends on it."
He slammed the GOP and criticized President Trump by name, saying that the politics of division "did not start" with him, but that he's "capitalizing on resentments that politicians have been fanning for years."
It is typically custom for former U.S. presidents not to criticize their successors, but in this day and age, what is customary anymore?