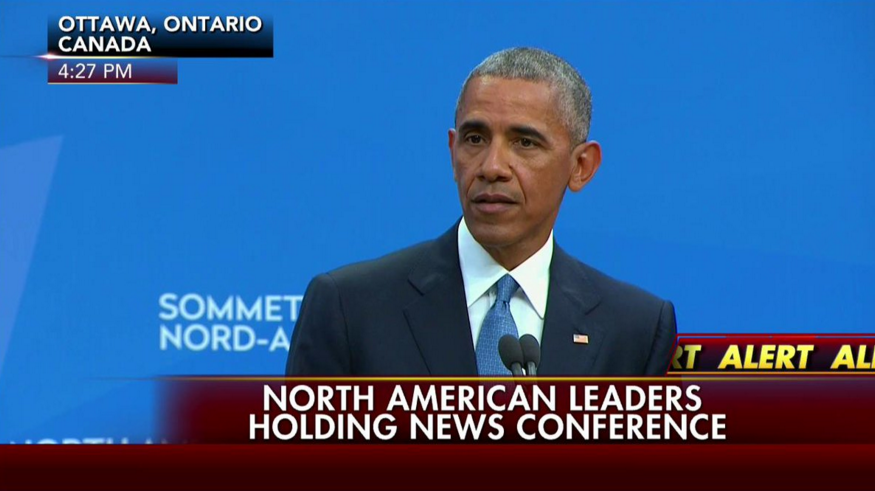 (Image via Twitter)
President Barack Obama joined Canadian Prime Minister Justin Trudeau and Mexican President Enrique Peña Nieto in Ontario on Wednesday for the 2016 North American Leaders Summit to discuss diplomatic relations within the region.
During a joint press conference, he addressed concerns involving immigration and border security, claiming that illegal immigration in the U.S. "is actually at its lowest level since the 1970s."
"People are genuinely concerned about immigration that is not orderly – people pouring across borders without having gone through some sort of process," said Obama. "It adds to peoples' sense that things are out of control, and that's why we've invested in securing our borders. We've made unprecedented investments. It's part of the reason why illegal immigration to the United States is actually at its lowest level since the 1970s."
"It's why we so value the cooperation with the Mexican government," he added.  
The Department of Homeland Security, the Pew Research Center, and the Migration Policy Institute (MPI) estimate that 11.3 to 11.4 million illegal immigrants reside in the U.S. 
While the amount of illegal immigration has steadied over the past five years, the current population is by no means at its lowest level since the 1970s as the President suggests.
MPI reports that today's large-scale immigration to the U.S. began in the 1970s. By the mid-1980s, there was an estimated 3 to 5 million illegal immigrants residing in the U.S., far less than the current estimate of 11.3 to 11.4 million.
Watch a clip from the President's remarks below.