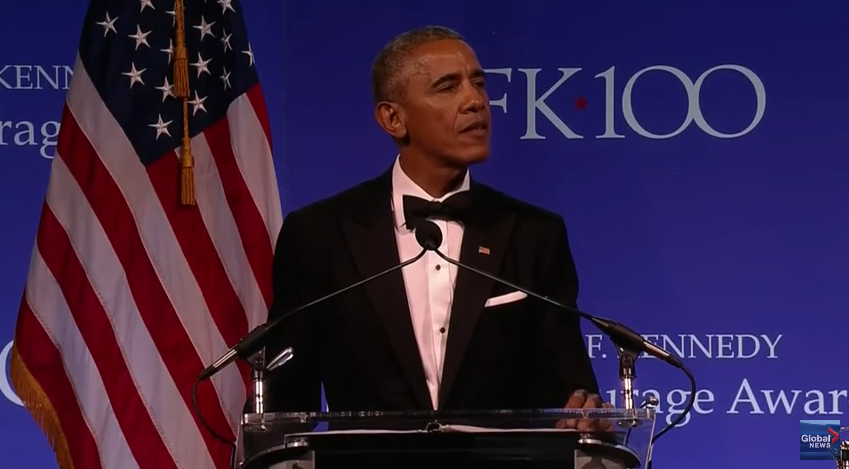 (Image via Twitter)
Former President Obama accepted the John F. Kennedy "Profile in Courage" Award in Boston on Sunday.
During his acceptance speech, he touched on the ongoing healthcare debate, arguing that the men and women in Congress who voted to pass the Affordable Care Act (ACA) back in 2010 "did the right thing." He called on present members of Congress to have the "courage" to oppose a repeal and defend his healthcare law.
"Theirs was a profile in courage," said Obama. "Because of that vote, 20 million people got health insurance who didn't have it before, and most of them did lose their seats. But they were true to what President Kennedy defined in his book as a congressional profile in courage, the desire to maintain a reputation for integrity that is stronger than a desire to maintain office."  
"And it is my fervent hope, and the hope of millions, that regardless of party, such courage is still possible," he continued. "I hope that current members of Congress recall that it actually doesn't take a lot of courage to aid those who are already powerful, already comfortable, already influential, but it does require some courage to champion the vulnerable and the sick and the infirm, and those who often have no access to the corridors of power."
"I hope they understand that courage means not simply doing what is politically expedient, but doing what they believe deep in their hearts is right," he said.
Obama implied that President Trump and Republicans are engaging in "misinformation and fearmongering" to advance a repeal and replacement bill, and insisted that the "great debate" over healthcare "is not settled."
His remarks come just days after the House passed a bill to repeal and replace Obamacare, now in the hands of the Senate.
Watch a clip from his speech below. 
Thank you for supporting MRCTV! As a tax-deductible, charitable organization, we rely on the support of our readers to keep us running! Keep MRCTV going with your gift here!