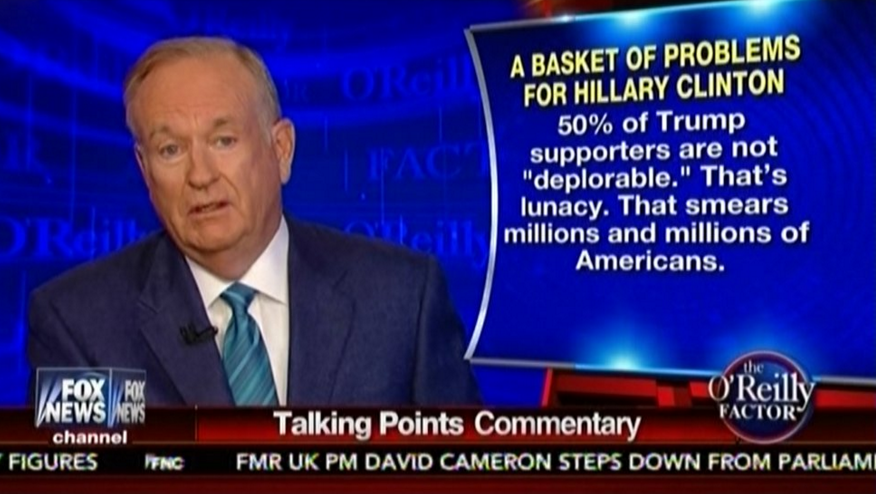 (Image via Twitter)
On Monday night's "The O'Reilly Factor," Fox News host Bill O'Reilly slammed Hillary Clinton for calling half of Donald Trump's supporters "deplorables," meaning people who are racist, sexist, homophobic or xenophobic.  
O'Reilly called Clinton's statement plain "lunacy."
"Few people, but not 50% of Trump supporters," he said. "That's lunacy. That smears millions of millions of Americans."
"Secretary Clinton made a big mistake," O'Reilly argued. "Every fair-minded person knows you cannot generalize about what's in people's hearts. And I do not include the far left under the banner of 'fair-minded.'"
"What Clinton's comments really do is mobilize those who were thinking about voting for Trump – not his hardcore supporters," he continued. "I mean, come on. Branding people racist is despicable unless there's undeniable proof of that charge. Fair-minded people understand."
O'Reilly went on to say that somebody on the Clinton campaign should have known that her scripted, teleprompter "basket of deplorables" line would give Trump "a major advantage."
"But again, campaigns are very strange things," he added.
Clinton had been speaking at an LGBT event in New York on Friday when she made the assertion.
Following backlash for her remarks, Clinton issued a statement on Saturday, expressing regret for being "grossly generalistic."