A group of New York University students calling themselves "NYU Against Fascism" recently attacked a member of the College Republicans for using the "okay" hand gesture, calling it as an "OK White Power sign."
In their Facebook post of a photo of members of the NYU College Republicans, the moderator for the NYU Against Fascism Facebook page claimed one of the students was pictured making a "White Power" sign:
The problem, however, is that his hand gesture isn't a "White Power" symbol; it's the universal "okay" sign.
To support their accusation that the "okay" sign is a hate symbol, NYU Against Fascism shared an article by The Outline. The article, which received comment from the Southern Poverty Law Center's Ryan Lenz, differentiates between the "okay" symbol when used to share a photo of a newborn child, and when it is what's Lenz dubbed the "Pepe OK."
An example of the "Pepe OK," provided by Lenz, is a viral photo of White House advisor Stephen Miller who was captured fixing his suit and tie. The photo went viral on Twitter with accusations that the photo proves Miller must have some sort of an association with Aryan gangs. However, in a statement from the Anti-Defamation League provided to Snopes, the ADL said there is no evidence to support the idea that the Jewish Miller would be familiar with Aryan prison gangs.
Indeed, the ADL has been steadfast in dispelling the idea that the "okay" gesture is a hate symbol. In fact, the ADL, in its due diligence, was able to track down the start of the rumor that the "okay" hand symbol is a hate gesture: a 4chan hoax meant to trick journalist into believing everything is a hate symbol.
The 4chan hoax has clearly succeeded. An article for the Independent accused two right-wing figures of making "white supremacist hand signs" in the White House. The "white supremacist hand signs?" The "okay" gesture.
When a supporter of NYU Against Fascism pointing out that the ADL does not believe the "okay" gesture is a hate symbol, NYU Against Fascism responded by saying they never called the symbol a hate symbol, just a "OK White Power sign."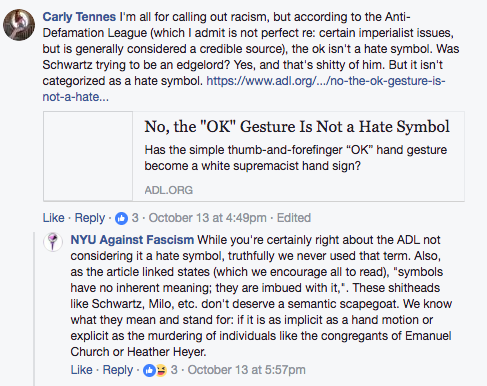 The page also asserted that by making the "okay" gesture, the individual in the photo was making it clear what he stood for, which allegedly means supporting the death of Heather Heyer.
In response to their post, the NYU Against Fascism comments section was bombarded with people posting the emoji of an "okay" symbol and different gifs showing black celebrities making the same hand gesture: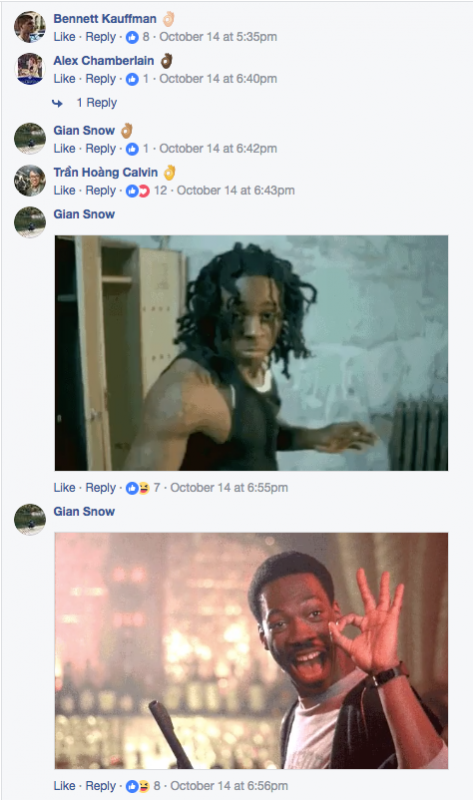 There is no word on whether NYU Against Fascism is going to hold an "emergency anti-Nazism rally" in response to the emojis and gifs.
Thank you for supporting MRCTV! As a tax-deductible, charitable organization, we rely on the support of our readers to keep us running! Keep MRCTV going with your gift here!