On Tuesday, comedian Jon Stewart blasted members of a Judiciary subcommittee for failing to take action on the 9/11 Victim Compensation Fund.
Despite the bill passing the Judiciary Committee by unanimous vote and having 313 bipartisan cosponsors in the House, it appears New York Times writer Wajahat Ali couldn't help making the issue a partisan one.
In a now-deleted tweet, Ali claimed "Anytime a Republican says they are 'patriots' ask them if they voted to fund the 9/11 Victims Compensation Fund. You know who's for it? Ilhan Omar. You know who hasn't sponsored it? Dan Crenshaw. @DanCrenshawTX, I hope you do the right thing. If not, why aren't you?"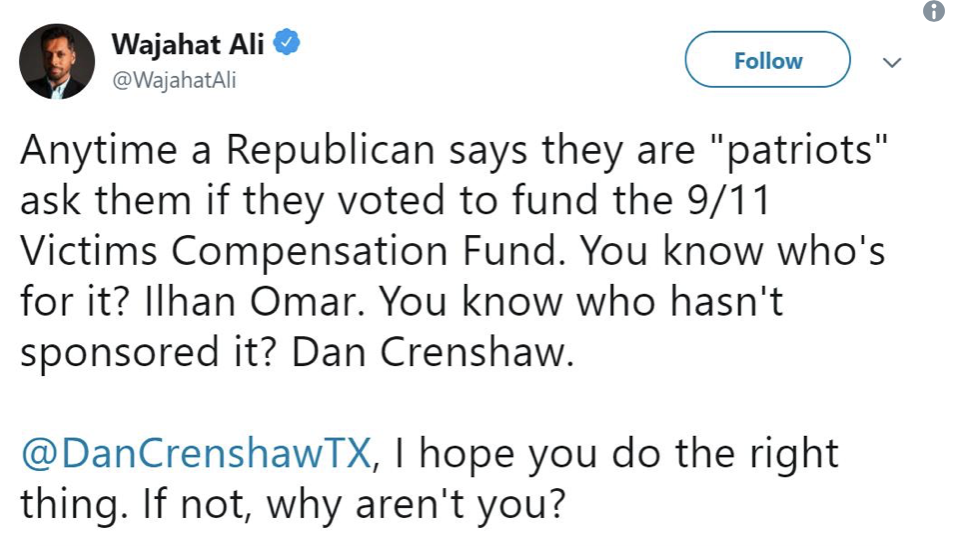 The issue with this? Well, a simple google search shows Crenshaw is a co-sponsor of the bill. 
Well, Crenshaw hit back, and hard:
Needless to say, Twitter had some fun with this monumental lapse by Ali: