In the span of a few hours, the New York Times changed its characterization of President-elect Donald Trump's Environmental Protection Agency pick from a fossil fuel "ally," to a "climate change dissenter," and then a "climate change denialist."
An archive of New York Times reporter Coral Davenport's original story on Scott Pruitt, dated Dec. 7 and timestamped 20:47:29 UTC, describes Pruitt in the headline as an "Ally of Fossil Fuel Industry":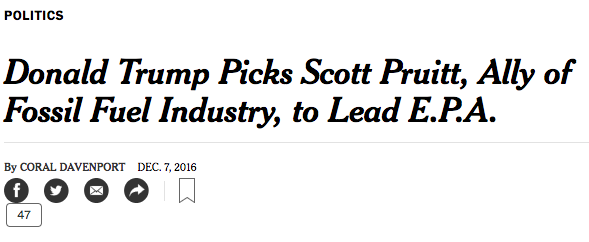 The headline of the article as it appeared at 00:46:58 UTC on Dec. 8, however, calls Pruitt a "Climate Change Dissenter":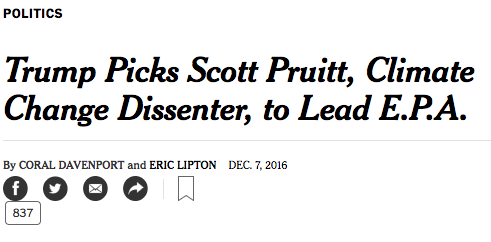 The most recent version of the article, which is currently still live on the New York Times website, calls Pruitt a "Climate Change Denialist":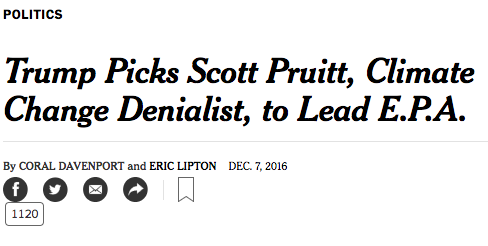 According to the timestamps from archives, the article's title went through three revisions in the span of five hours. The edits came as Eric Lipton was added to the byline.
It's not just the headlines of the articles that changed. The description of Pruitt and his ideology became more sensationalist and editorialized between the first version of the article and its subsequent revisions.
The lede in the original article claims Trump picking Pruitt is "signaling Mr. Trump's determination to dismantle President Obama's efforts to counter climate change."
However, in the two subsequent versions of the article, the authors write Trump's choice of Pruitt is "signaling Mr. Trump's determination to dismantle President Obama's efforts to counter climate change — and much of the E.P.A. itself."
After describing Trump's position on climate change, the new versions of the article added, "Mr. Pruitt has been in lock step with those views."
The new versions of the article refer to a piece Pruitt wrote for National Review about how "dissent is not a crime," which appear to earn Pruitt the titles of "dissenter" and "denialist":
"Scientists continue to disagree about the degree and extent of global warming and its connection to the actions of mankind," he wrote in National Review earlier this year. "That debate should be encouraged — in classrooms, public forums, and the halls of Congress. It should not be silenced with threats of prosecution. Dissent is not a crime."
The updated articles also include paragraphs of text referring to Pruitt as potentially the "most hostile E.P.A. administrator" ever:
A meeting on Monday between the president-elect and former Vice President Al Gore may have given environmental activists a glimmer of hope that Mr. Trump was moderating his campaign stance. Mr. Trump told New York Times editors and reporters that he does "think there is some connectivity" between human activity and a warming planet.

With the choice of Mr. Pruitt, that hope will have faded.

"During the campaign, Mr. Trump regularly threatened to dismantle the E.P.A. and roll back many of the gains made to reduce Americans' exposures to industrial pollution, and with Pruitt, the president-elect would make good on those threats," said Ken Cook, head of the Environmental Working Group, a Washington research and advocacy organization.

"It's a safe assumption that Pruitt could be the most hostile E.P.A. administrator toward clean air and safe drinking water in history," he added.
Davenport and Lipton also added, "Fossil fuel interests greeted Mr. Trump's selection with elation," quoting the American Coalition for Clean Coal Electricity as an example of conservatives and fossil fuel interests hailing Pruitt as a "hero":
Attorney General Scott Pruitt has long been a defender of states' rights and a vocal opponent of the current administration's overreaching E.P.A," said Laura Sheehan, a spokeswoman for the American Coalition for Clean Coal Electricity, which works on behalf of the coal industry. "Mr. Pruitt will be a significant voice of reason when it comes to energy and environmental regulations.
More paragraphs added to the New York Times piece alleged Pruitt will be the "right man" to completely dismantle the EPA:
"Beyond climate change, the E.P.A. itself may be endangered. Mr. Trump campaigned on a pledge to greatly shrink — or even dismantle — it. "We are going to get rid of it in almost every form," he once pledged.

Mr. Pruitt may be the right man to do that. As attorney general, Mr. Pruitt created a "federalism unit" in his office, explicitly designed to fight President Obama's health care law and environmental regulations.
The new versions of the article even end with statement from Sen. Bernie Sanders (I-Vt), a socialist ideologue, about how he will oppose Pruitt:
"At a time when climate change is the great environmental threat to the entire planet, it is sad and dangerous that Mr. Trump has nominated Scott Pruitt to lead the E.P.A.," said Senator Bernie Sanders, independent of Vermont, who sits on the committee that must confirm him. "The American people must demand leaders who are willing to transform our energy system away from fossil fuels. I will vigorously oppose this nomination."
It is unknown how many more revisions the New York Times piece will endure and what new title will Pruitt will earn. 
Thank you for supporting MRCTV! As a tax-deductible, charitable organization, we rely on the support of our readers to keep us running! Keep MRCTV going with your gift here!