After facing backlash for publishing a piece with a misleading headline maligning U.S. Ambassador to the United Nations Nikki Haley, The New York Times has issued a correction and changed the title.
The headline now reads, "State Department Spent $52,701 on Curtains for Residence of U.N. Envoy."
The previous headline suggested that Haley and the State Department spent over $52,000 for curtains for her Manhattan residence, painting a picture of frivolous spending and misuse of taxpayer funds. Yet, it is stated within the article that the curtains were purchased during the Obama administration, not by Haley nor the Trump State Department.
MRCTV reported,
The Times, seen here in all its deceptive glory, article ran under the headline: 'State Department Spent $52,701 on Curtains for Nikki Haley's Residence.' Except that neither she, nor the Trump State Department, were the ones that bought the pricey drapes -- the Obama administration did.

The Times notes that Haley is the first UN ambassador to live in the penthouse, unlike former ambassadors who lived in the famous Waldorf Astoria hotel. But the Times also admits in their own article that the nearly 6,000 square-foot space, listed for $58,000 a month, was first leased in 2016 by the Obama administration as the UN ambassador's residence after the Waldorf was bought by a shady Chinese company.

…

The Times also notes, contrary to its own misleading headline, that the Obama State Department was responsible for ordering the curtains, which just happened to be installed last year after Haley had already taken over the ambassadorship. 
After receiving criticism for the deceiving headline, The Times changed the title, changed the cover photo, and issued the following editor's note admitting that the headline was "unfair":
Editors' Note: September 14, 2018

An earlier version of this article and headline created an unfair impression about who was responsible for the purchase in question. While Nikki R. Haley is the current ambassador to the United Nations, the decision on leasing the ambassador's residence and purchasing the curtains was made during the Obama administration, according to current and former officials. The article should not have focused on Ms. Haley, nor should a picture of her have been used. The article and headline have now been edited to reflect those concerns, and the picture has been removed.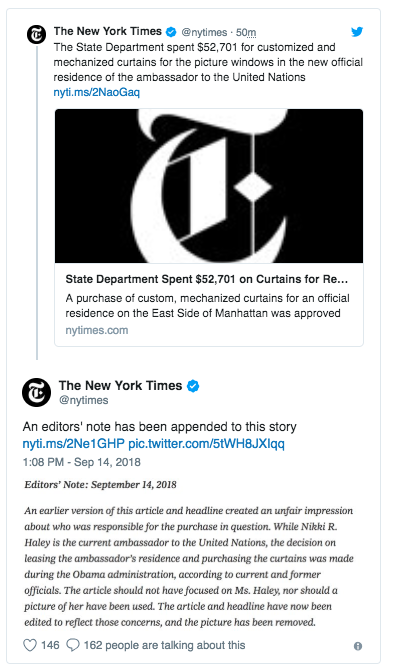 No wonder President Trump calls The New York Times "fake news." They just made his argument for him. 
(Cover Photo: Flickr - South Carolina Governor Nikki R. Haley's Photostream)