New York City may soon adopt some of the strictest measures in the country to curb smoking, including raising the price of a pack of cigarettes to the highest in the country and reducing the number of retailers allowed to legally sell cigarettes.
NYC Mayor Bill de Blasio bragged on Twitter that the city will be increasing the minimum price of a pack of cigarettes from $10.50 to $13, making the price of a pack "the highest in the country":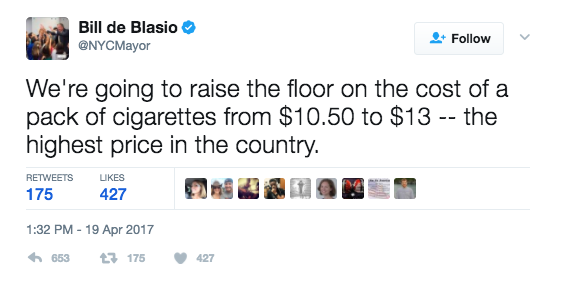 According to USA Today, the hike in the price of cigarettes is one of the five proposals in a package of bills aimed at trying to reduce the number of smokers in the city. Other anti-smoking measures de Blasio supports include banning pharmacies from selling cigarettes, requiring a license to sell e-cigarettes, and restricting licenses to sell cigarettes to half the current number.
While many believe a crack down on cigarettes will force people to quit smoking, the taxes on cigarettes have pushed the sale of cigarettes underground. The Tax Foundation reportedly found that 55.5 percent of cigarettes smoked in New York in 2014 were purchased from people selling loose cigarettes (loosies). In 2014, Eric Garner was killed when New York police officers placed him in a chokehold while trying to arrest him for selling loosies.
Ironically, de Blasio has paid tribute to Garner, while supporting the same policies that played a part in Garner's death.
If the New York City government didn't continuously drive up the price of cigarettes through taxes and price floors, there wouldn't have been a reason or a market for Garner to illegally sell cigarettes--and selling cigarettes without a license and without a tax wouldn't be a crime.
Thank you for supporting MRCTV! As a tax-deductible, charitable organization, we rely on the support of our readers to keep us running! Keep MRCTV going with your gift here!