Maybe it's not the most polite thing to call a politician a "bully" or a "thug," but that's exactly what New York City Councilman Justin Brannan seems to be — a bullying thug.
A small online publication, called the Brooklyn Reporter, reported on the group's last-minute meeting at a Knights of Columbus hall on Thursday evening as if it were an all points bulletin.
Brannan took to Twitter on Thursday to both brag about intimidating an NRA group, Brooklyn's Friends of NRA, and displaying his disgust over the group having to set up meetings on short notice because of the alleged harassment, or as Brannan calls it — protesting. Brannan referenced the Brooklyn Reporter article.
Here's Brannan's tweet: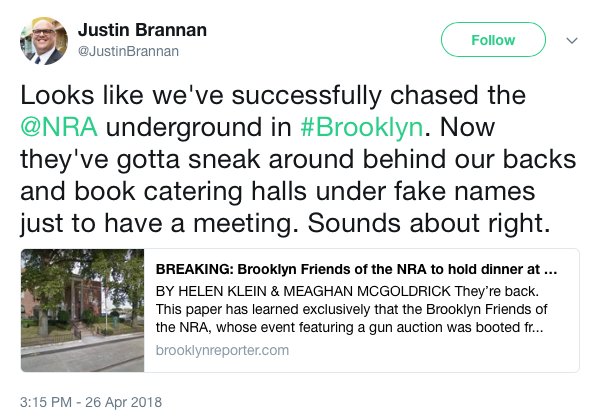 When someone responded to Brennan on Twitter, asking the councilman about his use of the phrase "chased the @NRA underground," Brannan responded smugly, not understanding his own ignorance.
Here's Brannan's response:
Why? Why is the question Brannan chose to ask? Brannan literally answered his own question in his initial tweet. He "chased the @NRA underground." How else are they supposed to set up meetings when ill-informed politicians lead angry mobs against a group that "chase them underground?"
Brannan and Brooklyn Borough President Eric Adams gave a joint statement to the Brooklyn Reporter.
"The NRA does not value the safety and security of our neighborhoods, putting deadly assault weapons above innocent lives; it is no friend of Brooklyn," Brannan and Adams said in the statement. "Our protest of the NRA and their campaign of chaos continues."
I'm sorry. Do Brannan and Adams own Brooklyn? They supposedly intimidate groups into cancelling events while touting their right to assemble and protest. Pretty hypocritical if you ask me.
Apparently, Brannan doesn't have too many Twitter fans, because he got absolutely roasted on the social media platform: