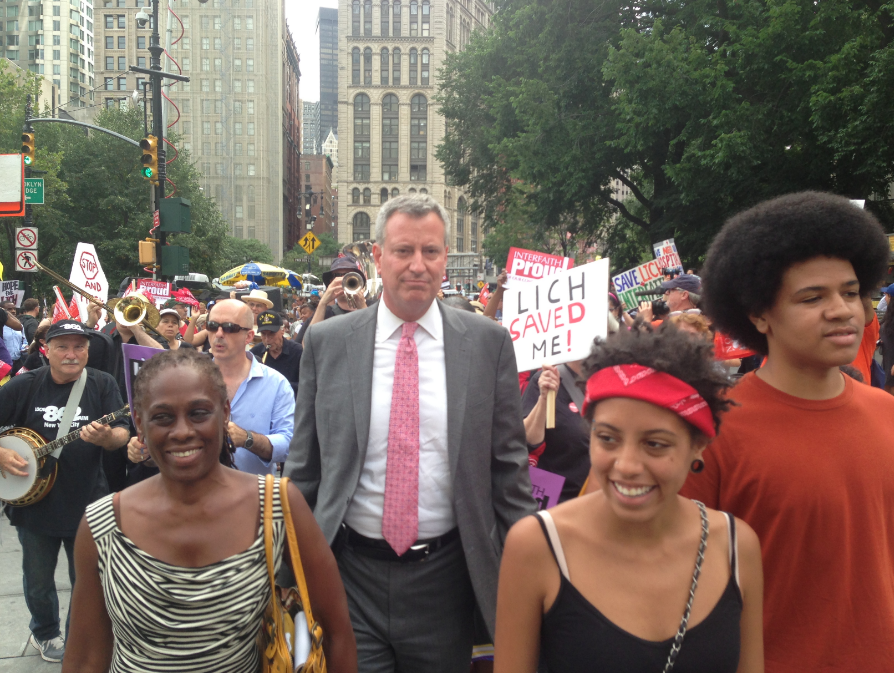 New York City will soon become the first major U.S. city to offer "free" sanitary napkins and tampons to girls in public schools because the prohibitive cost of a $5.27 box of 54 tampons is apparently causing girls to miss school.
In a Facebook post applauding the "free tampon" law that will provide pads and tampons to women in public schools, homeless shelters, and correctional facilities at zero-cost to women, Mayor Bill de Blasio wrote, "tampons and pads aren't luxuries—they're necessities."
However, many necessities, such as food and water, aren't provided to people in NYC for "free" simply because they're necessities. Using de Blasio's logic, public schools should be mandated to give out free lunch and water to all students, instead of just students relying on government assistance, because they're deemed "necessities."
In his statement on Facebook, de Blasio also tried to justify the free tampon law by citing NYC council member Julissa Ferreras-Copeland, who alleges girls are subjected to a bureaucratic process in order to obtain pads from the nurse's office.
According to Ferreras-Copeland, "A young girl should not have to tell her teacher, to then tell her counselor, to then be sent to the nurse's office, to then be given a pad to then go back to the bathroom while a boy is already taking his exam in his classroom."
De Blasio reiterated Ferreras-Copeland's point in a gif provided to justify the free tampon law.
The gif claims, "[Girls] can focus on their 6th-period test, instead of their period. Girls shouldn't have to miss class because of their period. Free tampons and pads are now offered in ALL NYC public schools."
In this Orwellian tale of the NYC public school system, girls need to consult their guidance counselors before being granted permission to go to the nurse's office instead of just telling their teachers they need to go to the nurse.
And apparently, instead of simply keeping a box of pads or tampons in their lockers (or asking a friend for some), girls need to go to the nurse's office to deal with something that's generally often fairly easy to predict.
For some reason, according to the logic of the NYC city council and the mayor, making tampons and pads "free" is a solution to girls missing classes… instead of allowing girls to use 50-cent dispensers in bathrooms or assuming girls should purchase their own products to use at their convenience.
According to the press release announcing the legislation, tampons allegedly cost too much for low-income women. The press release claims:
Feminine hygiene products are essential for the health and well-being of women and girls. Inadequate menstrual hygiene management is associated with both health and psycho-social issues, particularly among low-income women. Access to feminine hygiene products has proven to be limited for certain populations, including public school students, the homeless, and incarcerated women.
Therefore, in order to remedy this grave injustice of these poor women needing to pay an upwards of $8 for an entire box of product that can generally last longer than a month, NYC made tampons "free" for women regardless of their income. NYC then attempted to justify its decision by claiming school girls were somehow missing class because they couldn't afford pads and tampons and had to consult various people instead of just going to their lockers.
It should also be noted the move for free tampons comes after NYC First Lady Chirlane McCray tweeted out a poem calling for making tampons free.