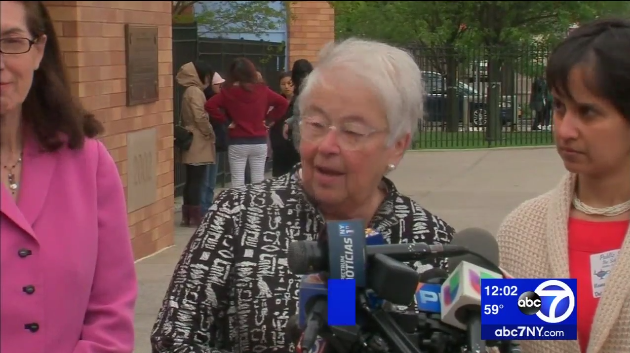 The New York City government said federal immigration agents are not welcome in their public schools after a Queens school turned away an immigration agent who was looking for a student to confirm information about benefits.
Pix 11 reports, according to Mayor Bill de Blasio's press secretary, an immigration agent went to P.S. 58 on Thursday inquiring about a fourth grade student. The school turned the agent away.
According to the press secretary, the immigration agent did not have a warrant and asked for information locating the student's whereabouts.
Queens Borough President Melinda Katz praised the school for its response.
"As a mother, I am deeply troubled and horrified at this attempt on the part of federal immigration agents to reach any child in our schools," she said. "P.S. 58 officials did the right thing by following proper protocols of the city administration, stopping the agents at the door and protecting their students."
New York City Schools Chancellor Carmen Farina said, "All students, regardless of immigration status, deserve a great education in public schools."
Farina visited P.S. 58. on Monday. She said the family of the student has been informed, and, despite the hype, they "do not believe this was an immigration issue per se."
Farina also stated the immigration agent was not an Immigration and Customs Enforcement agent.
"This was not ICE. This was an agent that we are still trying to discover, he didn't bring a card. He did bring a badge," Farina said. "He never got beyond the front desk."
"Our protocol now is to make sure when anyone comes into the building, to show information. He waits outside the school building, then that school notifies the lawyers at DOE, we notify immigrant services, and its handled on that level," Farina added.
According to ABC 7, the immigration officer was fulfilling a duty "as part of an administrative inquiry pertaining to an immigration benefit request."
In fact, U.S. Citizenship and Immigration Services said the stop was to "confirm information so the family would be eligible for a benefit" and that it had nothing to do with enforcement of immigration.
ABC 7 reports the immigration stop was about potentially obtaining a green card. They confirmed the officer was not inquiring about immigration status.
Regardless of the misunderstanding, in a tweet on the official New York City government's Twitter page, the city said federal immigration enforcement is not welcome in their schools: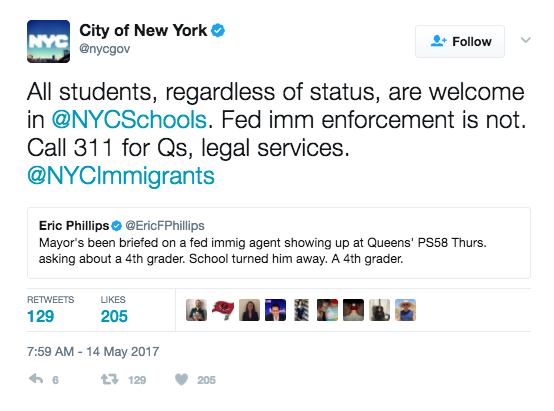 The sentiment was also shared by the NYC Mayor's Office of Immigrant Affairs and de Blasio's press secretary.
Thank you for supporting MRCTV! As a tax-deductible, charitable organization, we rely on the support of our readers to keep us running! Keep MRCTV going with your gift here!