The New York Times once again proved itself to be the laughing stock of "news" Tuesday after tweeting an article and caption claiming there have been "no long lines for gas" after a cyber attack on a major oil pipeline resulted in a fuel shortage at many stations along the East Coast.
Here's the tweet from the NYT (whose headquarters are in Manhattan where, notably, there are scant gas stations): "Colonial Pipeline, a vital U.S. fuel artery that was shut down by a cyberattack, said it hoped to restore most operations by the end of the week. Since the shutdown, there have been no long lines or major price hikes for gas."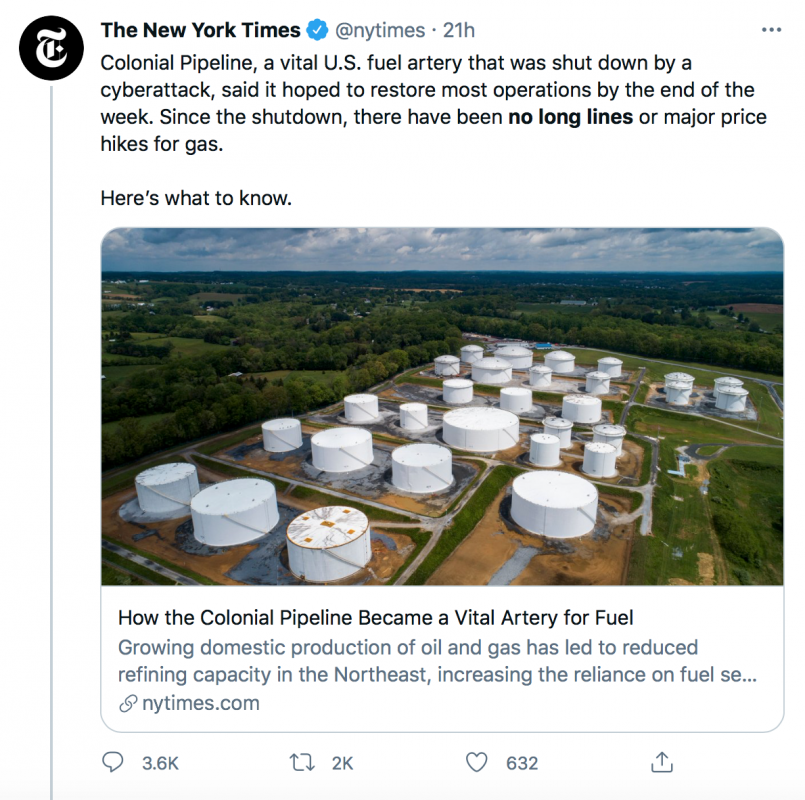 Never letting a good chance at mockery go to waste, the internet was quick to respond with literally hundreds of people testifying to long wait times at gas stations, including many photos of cars waiting in long lines that often stretched well past station parking lots and into the street.
 
there are like 500 of these on twitter. maybe, idk, do some research pic.twitter.com/KwFrlGHJCG

— Jessica O'Donnell (@heckyessica) May 11, 2021
My local Shell station is out of gas, the EnMarket had a line 600 feet in both directions, and that's just TWO stations that I pass each day. pic.twitter.com/R30WnmASRW

— ⚘Laurie #BLM (@BiltmoreGhost) May 12, 2021
Someone should be fired for this article pic.twitter.com/TjrW1GxClk

— 👁 (@Granneypuckett) May 11, 2021
Costco in ATL. Just because you say there are no lines does not make it true... pic.twitter.com/xyyxhZVYjF

— Mary Featherstone (@MFeatherstone) May 11, 2021

Related: Biden's Energy Secretary Admits 'Pipe Is the Best Way to Go' After Oil Shortage Batters the East Coast
 
Deleted previous tweet bc I didn't block out license plate.

I'm at Costco now. The line is blocking traffic thru the intersection down the street. pic.twitter.com/rvjWXyUEDD

— Essss (@jscolopy) May 11, 2021
Beg pardon?

You can't see the gas pumps in this photo because they're around three corners, behind the tree. You also can't see the end of this line, because it wraps around to the right and around another corner and was blocking traffic turning into the lot. pic.twitter.com/gfVwbMnHhI

— Woozle (@Woozalia) May 12, 2021

The Daily Caller's Logan Hall notes the NYT quietly updated their story to reflect price surges after getting called out on Twitter for their obtuse take on the semi-crisis.
 
the new york times stealth-edited their "no long lines for gas" article without acknowledgement or correction.

before and after. pic.twitter.com/qjEeE7mLHz

— Logan Hall (@loganclarkhall) May 12, 2021

Meanwhile, as state and local officials urge consumers not to panic and hoard gas, Colonial Pipeline claims they should be back up and running normally sometime this weekend.