As MRCTV's Nick Kangadis recently reported, Democrat California Governor Gavin Newsom Thursday announced new "lockdown" edicts in 41 of 58 state counties, running from Saturday, November 21, through December 21, to supposedly fight the spread COVID19.
Far-left California Gov. Gavin Newsom (D) announced on Thursday that all 'non-essential work and gatherings' in 'counties in the purple tier' will have a stay-at-home curfew so that the state can 'flatten the curve again.'
These would be edicts that already have been seen in various forms in CA, and which have proven to make no difference in stopping the virus spread, even as the mandates stand in utter contravention to natural rights and the US Constitution.
And even as Gavin Newsom defies the so-called logic of his own orders, as he recently put on grand display at a big, mask-less, dinner party that also broke size "restrictions" and "social-distancing" orders.
But not all the agents of state force are siding with Newsom. In fact, The Gateway Pundit's Cristina Laila reports that numerous California County Sheriffs are openly stating that they will not enforce Newsom's orders.
Sheriff's offices from Orange County, El Dorado County and Sacramento will not enforce Newsom's curfew order.
That's big news. That shows a profound difference between the way those Sheriffs want to adhere to their oaths to the US and California constitutions, and they way Newsom overlooks his own.
Shortly after Newsom's announcement, the office of Orange County Sheriff, Don Barnes issued his own, defying the Governor's plan, Tweeting, in part:
At this time, due to the need to have deputies available for emergency calls for service, deputies will not be responding to requests for face-coverings or social-gatherings-only enforcement.
Statement from @OCSheriffBarnes on the limited Stay at Home Order issued by Governor Newsom. pic.twitter.com/qDnYS4fk6U

— OC Sheriff, CA (@OCSheriff) November 20, 2020
Also on Thursday, the Sacramento County Sheriff's Office issued a release on Facebook, stating, in part:
The Sacramento County Sheriff's Office will not be determining—including entering any home or business—compliance with, or enforcing compliance of, any health or emergency orders related to curfews, staying at home, Thanksgiving or other social gatherings inside or outside the home, maximum occupancy, or mask mandates. Further, we will not dispatch officers for these purposes—callers will be advised to call 3-1-1 and be routed to County Health. Of course, if there is potential criminal behavior or the potential for impacts to public or personal safety we will continue to respond appropriately.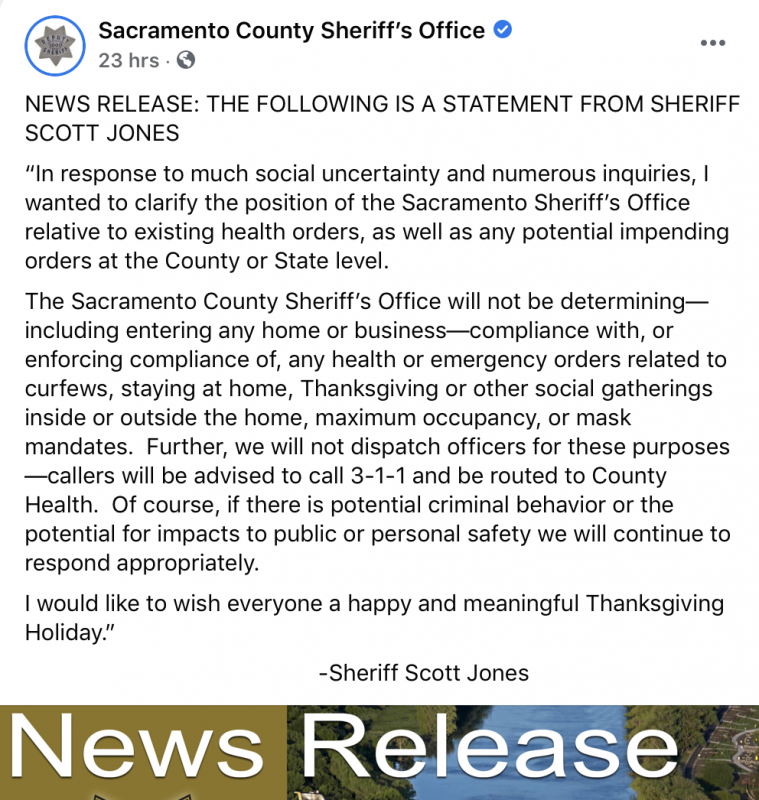 And the Sheriff added:
I would like to wish everyone a happy and meaningful Thanksgiving Holiday.
The El Dorado County Sheriff's Office actually posted at an announcement at the MountainDemocrat.com, explicitly saying:
On Nov. 19 the California Department of Public Health issued a curfew order for the state of California. The El Dorado County Sheriff's Office is aware and will not be enforcing this curfew order.
And the office added some pointed observations about how off-base Newsom is:
El Dorado County sheriff's deputies will not be determining compliance with, or enforcing the compliance of, any health order related to this curfew. The Sheriff's Office will not prevent Thanksgiving activities, maximum occupancies or mask wearing mandates at social gatherings within the county of El Dorado. Calls received by the Sheriff's Office regarding enforcement of any COVID-related orders will be referred to the El Dorado County Department of Public Health at (530) 621-6100.
And then they offered the capper, actually mentioning the US Constitution:
We will still address reports of criminal activity related to public safety and our El Dorado County citizens. The El Dorado County Sheriff's Office will continue to uphold the Constitution of the United States of America.
Such a statement is a major signal reflecting the difference between those who recognize the Bill of Rights, and people like Newsom, who pretend it doesn't exist.
As I've noted at MRCTV, Newsom's edicts not only circumvent the legislative process, even if they were passed through legislation, they stand in absolutely contravention of the First Amendment protection of free speech and freedom of association, the Fourth Amendment prohibition against unwarranted searches and seizures, the Fifth Amendment assurance of due process and prohibition of property takings without just compensation, the Sixth Amendment promise of a fair and speedy public jury trial (reaffirmed by the Fourteenth Amendment), and the Eighth Amendment prohibition of cruel and unusual punishment.
These are supposed to be fundamental rules for operation of the US, the states, and localities. Through his actions and comments, Newsom shows contempt for these rules. It would be nice to see reporters familiarize themselves with the structure of the government and call him on his dismissals of principle.
Until then, at least some Californians can count on their county Sheriffs to stand by their oaths.
As the great American tradition of Thanksgiving approaches, that's something to remember, and share with others.