A sitting U.S. congressman was mocked on Twitter for posting a photo of himself doing yoga to deal with the stress of Supreme Court decisions he doesn't like.
Rep. Andy Levin, a Democrat from Michigan, posted a picture of himself half-standing on his head, saying he will "turn inward" to deal with watching SCOTUS overturn unconstitutional restrictions on the Second Amendment and sending abortion laws back to the states.
"In a moment of wildly conflicting emotions, of intense anger over horrifying Supreme Court decisions (with more to come) mixed with gratitude that I was just able to help pass the first meaningful gun reform in three decades, I turn inward, at least for a moment," Levin posted in a now-deleted tweet.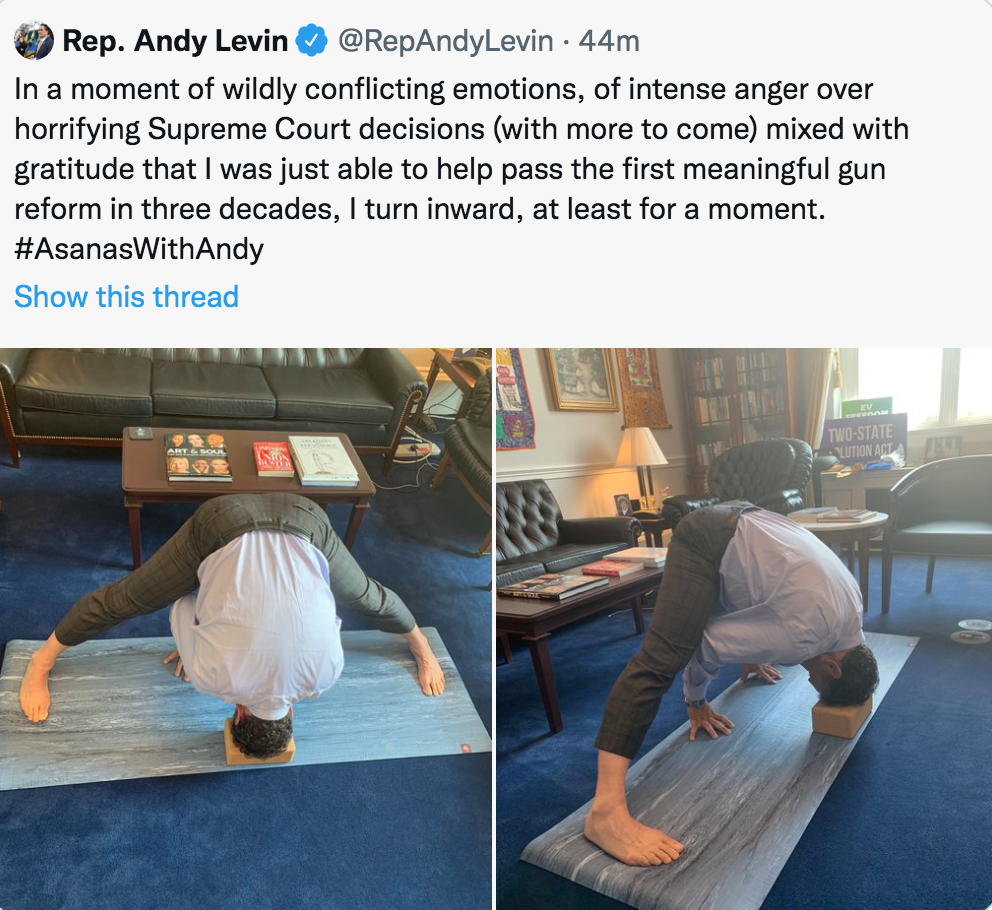 If that weren't bad enough, he followed it up with a few pointers on how to "release toxicity" - which, apparently, is triggered by watching the rollback of the legal "right" to slaughter an unborn baby.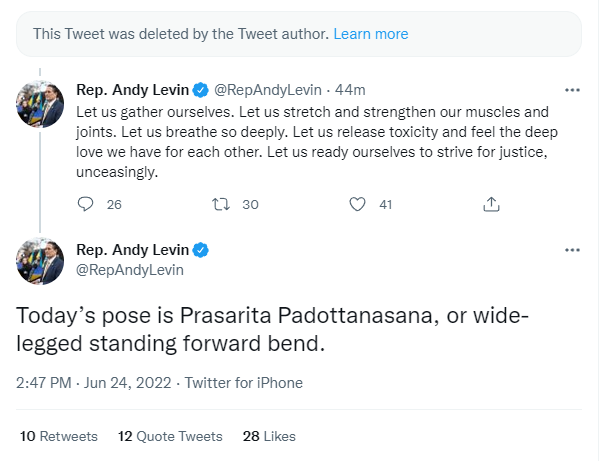 While he did delete the entire thread, unfortunately, the internet is forever.
 
Rep. Andy Levin…uh…. (2022) pic.twitter.com/U4BraoYirD

— crazy ass moments in american politics (@ampol_moment) June 24, 2022
Related: Milano & Reiner & Midler, Oh My! Leftists Spontaneously Combust Following Overturning of Roe v. Wade 
Props to Andy Levin on his tireless work to be the first politician to literally have their head up their own ass https://t.co/JCGhzGGn75

— Mearn (@mearn) June 24, 2022
Y'all leave Andy Levin alone. That's how Democratic legislators prepare for their workday.

— R. Jackson (@RmJack13) June 24, 2022
Zoomin Toobin:
Andy Levin: hold by beer https://t.co/DDSZ9qBaXe

— Chuck Ross (@ChuckRossDC) June 24, 2022