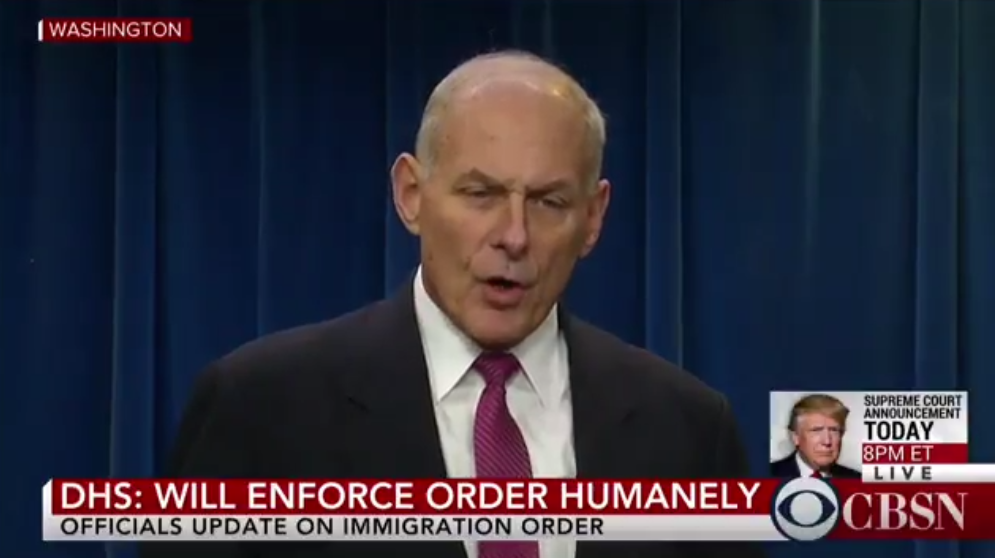 (Image via Screenshot)
Newly-instated Department of Homeland Security (DHS) Secretary John F. Kelly held a press conference on Tuesday regarding the implementation of President Donald Trump's executive order on immigration.
He began by clarifying that the order is "not a travel ban" nor a "ban on Muslims," but a "temporary pause" on the flow of refugees and visitors from terror-ridden countries as DHS reviews its current refugee and visa vetting procedures.
"This is not a travel ban," said Kelly. "This is a temporary pause that allows us to better review the existing refugee and visa vetting system... This way we can ensure the system is doing what it is designed to do, which is protect the American people."
"This is not, I repeat, not a ban on Muslims," he went on, referring to the backlash and protests over the weekend that labeled the executive order as a religiously-based action. "The Homeland Security mission is to safeguard the American people, our homeland our values, and religious liberty is one of our most fundamental and treasured values."
Sec. Kelly told reporters that over the next 30 days, DHS will analyze and assess the strengths and the weaknesses of the current immigration system, "which is the most generous in the world," he added.
The DHS will then provide America's foreign partners and allies 60 days to cooperate with U.S. national security requirements.
Kelly defended the executive order by saying, "I will not gamble with American lives."
He assured the press that the DHS will implement the order "professionally, humanely, and in accordance with the law."
President Trump last week signed an executive order that would halt the flow of refugees and visitors to the U.S. from seven Middle Eastern and African countries known to have connections to terrorism.
The executive order was labeled a "Muslim ban" by the media and dissenting Democrats, and was subsequently met with weekend-long protests at airports across the nation.
Democrats in Congress sought to overturn the executive order but were unsuccessful.
Thank you for supporting MRCTV! As a tax-deductible, charitable organization, we rely on the support of our readers to keep us running! Keep MRCTV going with your gift here!