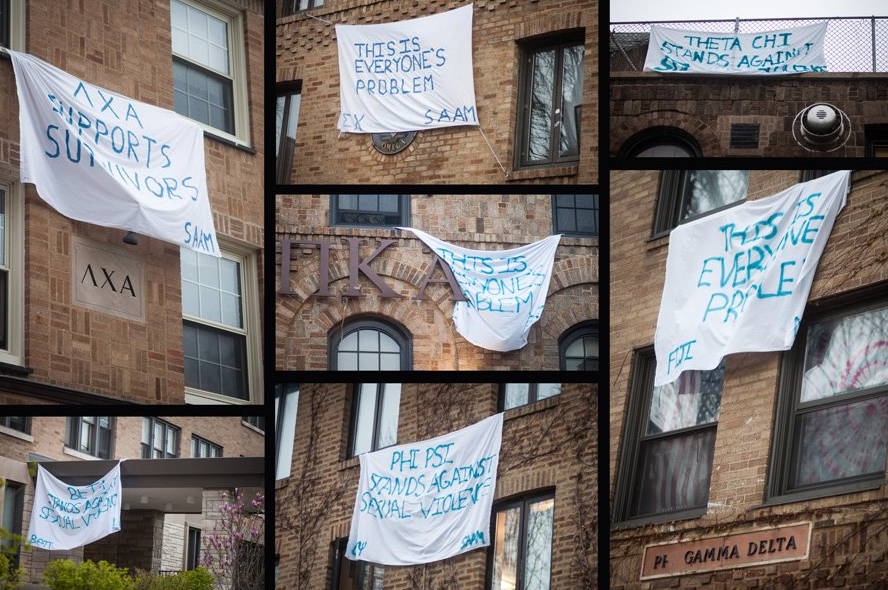 (Image source: Twitter)
Fraternities at Northwestern University have issued an apology for their anti-sexual assault banners created for Sexual Assault Awareness Month, all because drawing attention to sexual assault is apparently "triggering."
The potentially "triggering" signs allegedly read that the fraternities "support survivors," stand against sexual assault, and acknowledge sexual assault is "everyone's problem."
According to the Daily Northwestern, the Interfraternity Council issued an apology last Monday for those who might have been offended by the signs intended to acknowledge sexual assault as a problem.
In a statement, the IFC Executive Board wrote, "We recognize now how this campaign may have been emotionally triggering for survivors, and we want to make a deep, genuine apology for anyone that may have been affected."
"This was not our intent, but it is our fault for not being cognizant enough and not considering how it might affect others in our community," they explained.
In addition to issuing an apology, the Interfraternity Council announced it will be creating a four-year sexual assault education program.
The IFC president, Will Altabef, said the four-year program will be a "'continuing education' plan." The program will be an extension of the program that already exists for fraternities, which includes a visit from Men Against Rape and Sexual Assault.
The apology comes after Daily Northwestern columnist Jessica Schwalb wrote, "A congratulations [for displaying the banners] is hardly in order, however. Conversations about sexual assault within fraternities must continue beyond a single month of awareness or solitary presentation from Sexual Health and Assault Peer Educators or Men Against Rape and Sexual Assault."