President Trump is on his way home from Singapore after the historic U.S.-North Korea summit.
Trump tweeted on Tuesday that "great progress was made on the denuclearization of North Korea" and that he "got along great with [North Korean leader] Kim Jong-un.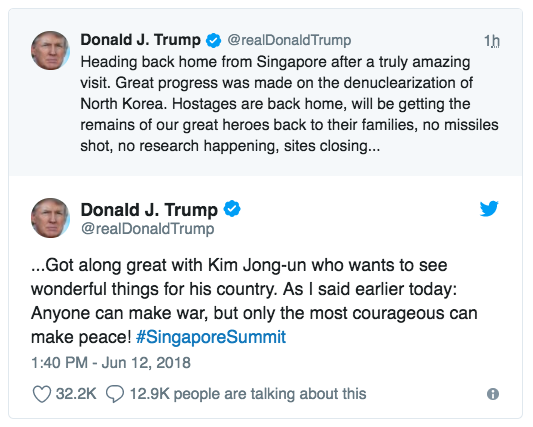 He and Kim Jong-un released a joint statement the same day indicating that the two "conducted a comprehensive, in-depth, and sincere exchange of opinions on the issues related to the establishment of new U.S.–DPRK relations and the building of a lasting and robust peace regime on the Korean Peninsula."
The statement reveals that in exchange for an "unwavering commitment to complete denuclearization" by North Korea, Trump conceded to "security guarantees to the DPRK."
These were not elaborated on, but Trump in a press conference announced plans to stop "the war games," or joint military exercises with South Korea.
The President defended the move by saying that the exercises were "very provocative" and expensive.
It "will save us a tremendous amount of money," he said.
Trump also said that he hasn't "given up anything" other than agreeing to the meeting with Kim.
Sanctions on North Korea will remain until "we are sure that the nukes are no longer a factor," the President told reporters.
"I actually look forward to taking them off," Trump said. 
Now the U.S. and North Korea will be entering into "vigorous negotiations" regarding the denuclearization process.
The President added that he will be inviting Kim "at the appropriate time" to the White House. He said there is a possibility of a future visit to Pyongyang.